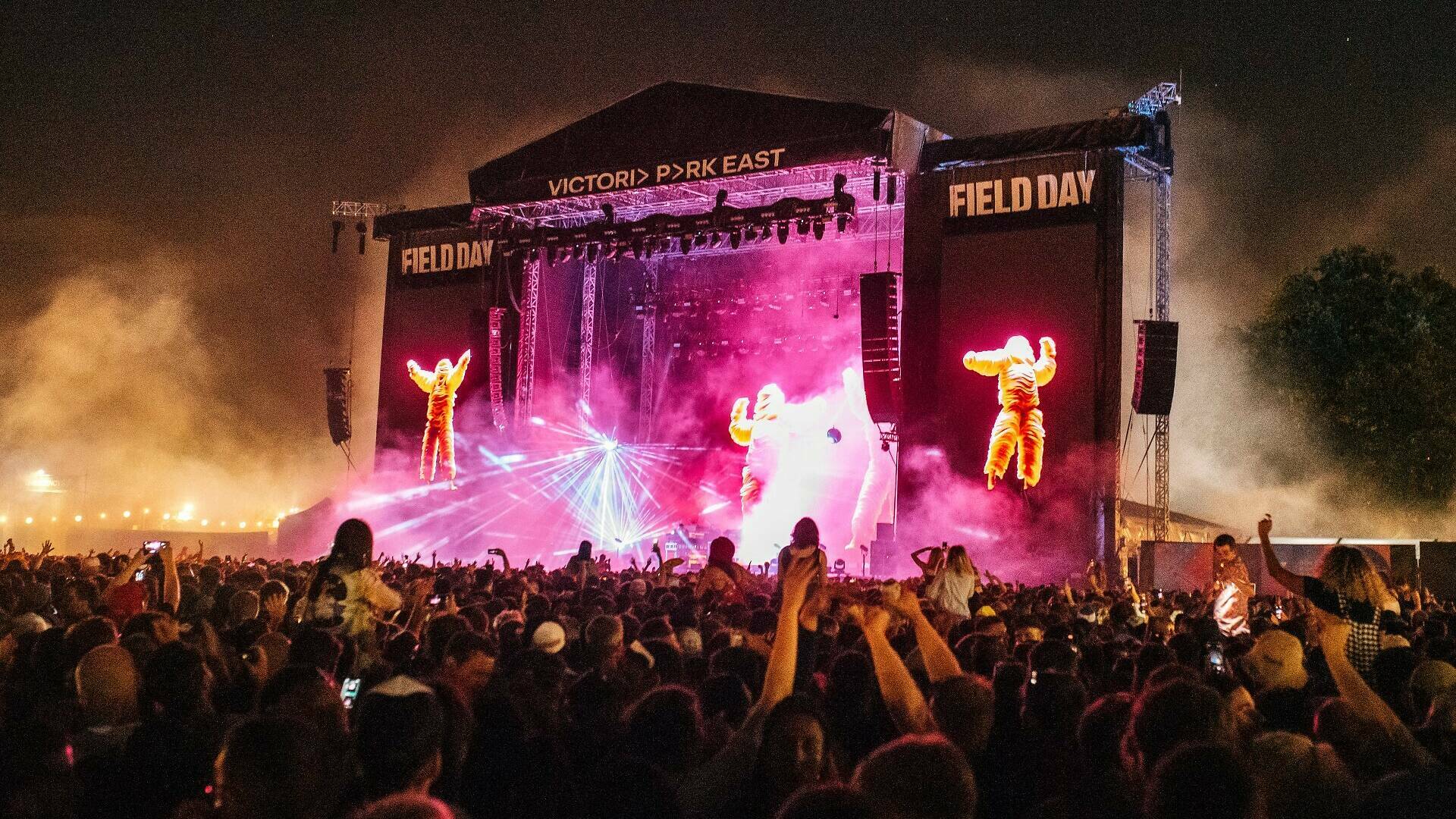 London's summertime festivals don't get much more solid than Field Day. Since being founded in 2007, Field Day has offered everything from dance music and indie rock to arty pop, establishing itself as not just one of the best music festivals in London but one of the finest in the entire UK.
And in 2023, once again, Field Day looks like it'll be a spectacular highlight in London's summer music calendar. Headed up by Aphex Twin, one of the all-time electronic music greats, the rest of the roster features everything from sensual neo-soul and slinky synthpop to blissful ambient music. Here's everything you need to know about Field Day 2023.
RECOMMENDED:
All you need to know about All Points East 2023 
Stormzy at All Points East: timings and everything you need to know

When and where is Field Day?
Time to get excited: Field Day is tomorrow, August 19 at Victoria Park in east London.
What's the full Field Day 2023 lineup and set times?
This year arguably boasts Field Day's biggest lineup yet. The biggest names are electronic kingpins Aphex Twin and Bonobo, but other significant artists include Arca, Fever Ray, Actress, Kelela, Jon Hopkins and Sudan Archives.
Spread across five stages, here is the schedule for the day.
East Stage
Hagop Tchaparian, 1pm-2pm
Surusingh, 2pm-3pm
LSDXOXO B2B Juliana Huxtable, 3pm-4pm
Jayda G, 4pm-5pm
Fever Ray, 5:40pm-6:40pm
Arca, 7:25pm-8:25pm
Aphex Twin, 9:25pm-10:55pm
West Stage
MAFRO, 1pm-1:45pm
Desire, 2pm-3pm
Sudan Archives, 3:15pm-4:15pm
TSHA, 4:45pm-5:30pm
Jon Hopkins, 6:15pm-7:15pm
Bonobo, 8pm-9:15pm
Cupra North Arena
Guilia Tess, 1pm-2pm
Actress, 2:20pm-3:20pm
Kai Campos: Mount Kimbie, 3:40pm-4:40pm
SBTRKT, 5:10pm-6:10pm
Kelela, 6:30pm-7:30pm
Moderat, 8:10pm-9:10pm
BBC 6Music Stage
Ella Knight, 1pm-2pm
Mary Anne Hobbs, 2pm-3pm
quest?onmarq, 3pm-4pm
Deena Abdelwahed, 4pm-5pm
yunè pinku (DJ set), 5pm-6pm
Effy, 6pm-7pm
Anastasia Kristensen, 7pm-8pm
Chloé Robinson, 8pm-9pm
New Artist Stage
Bibi Seck, 1pm-2pm
Love Remain, 2pm-3pm
GAZZI, 3pm-4:30pm
Art School Girlfriend (DJ set), 4:30pm-5:30pm 
How long is Aphex Twin's set?
Aphex Twin is scheduled to play for exactly an hour and a half. 
Any news on Aphex Twin's Field Day setlist?
Aphex Twin is renowned for not playing a conventional setlist – they're usually filled with covers, new tunes and totally fresh versions of his old songs. Don't expect to hear any hits (or not as you know them, anyway) or a set that bears much resemblance to previous shows.
You can have a look at a few of his older shows on Setlist.fm here. 
Are there any tickets left for Field Day?
General admission tickets are still available on the official Field Day website here. 
What time does Field Day start and finish?
Doors open at 2pm, or at 1pm if you have special 'primary entry' or VIP tickets. The festival finishes after the end of Aphex Twin's set, at about 11pm.