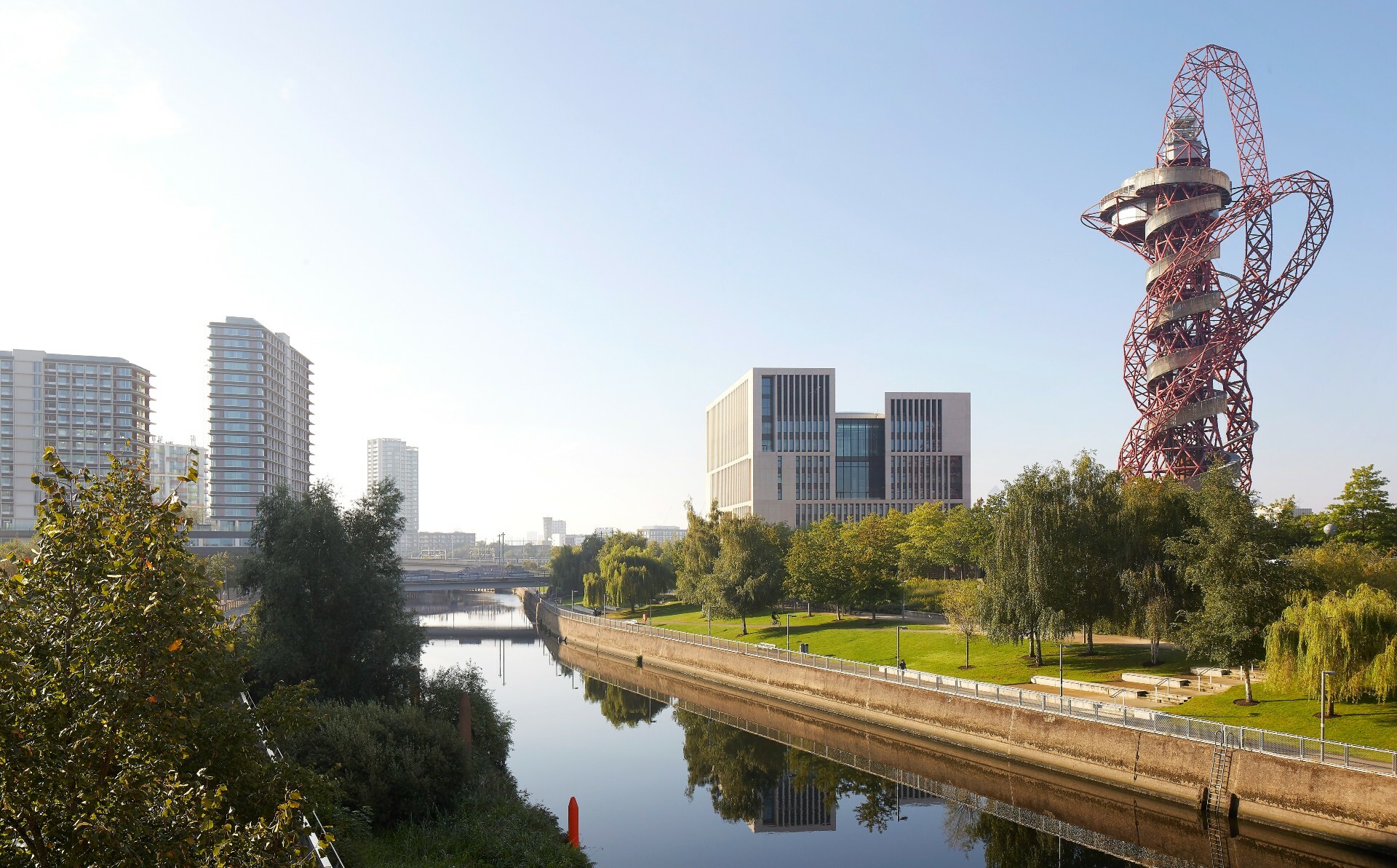 University College London (UCL) is currently ranked the ninth best uni in the entire world. It is an internationally recognised institution of academic excellence, and now it is seeking to redefine the whole concept of what a university campus is. So, appropriately, they've opened a massive, insanely futuristic new building. 
UCL's brand-new campus in East Marshgate opened its doors this week. Described as 'innovative', the project was welcomed by a flashy opening ceremony culminating in a robotic dog (accompanied by a dog made of flesh and bones) delivering an orange button to the stage. The button was pressed, ushering in a new era for the university.
According to UCL, the new Marshgate building was 'designed to accelerate breakthroughs in areas including robotics and AI, ecology, sustainable cities, green manufacturing, decarbonised transport, assistive technology, fair finance, and global health.'
The new campus aims to tackle modern issues facing the world head on. It was developed to be a hub for learning and discovery, but also with an intense awareness of its environment, being open for the public and encouraging locals to come in and enjoy exhibitions and facilities. The scheme was backed by Sadiq Khan himself, who said: 'The new campus at UCL East is an exciting milestone for East Bank.'
'[The campus] will cement East Bank's place as a powerhouse for innovation, creativity and learning. UCL East will attract scholars from across the world who will nurture and inspire students for generations to come, helping to build a better London for everyone.'
This new development is part of what impressed pundits at the Times Good University Guide, who named UCL university of the year for 2024. Here are a few more snaps of the new campus. 
Enjoy your new Stratford campus, UCL students! I'm sure it will make up for paying extortionate London rents and having half of your lectures cancelled by strikes.
Listen to Time Out's brilliant new podcast 'Love Thy Neighbourhood': episode seven with Big Zuu in Oxford Circus is out now.
Stay in the loop: sign up for our free Time Out London newsletter for the best of the city, straight to your inbox.