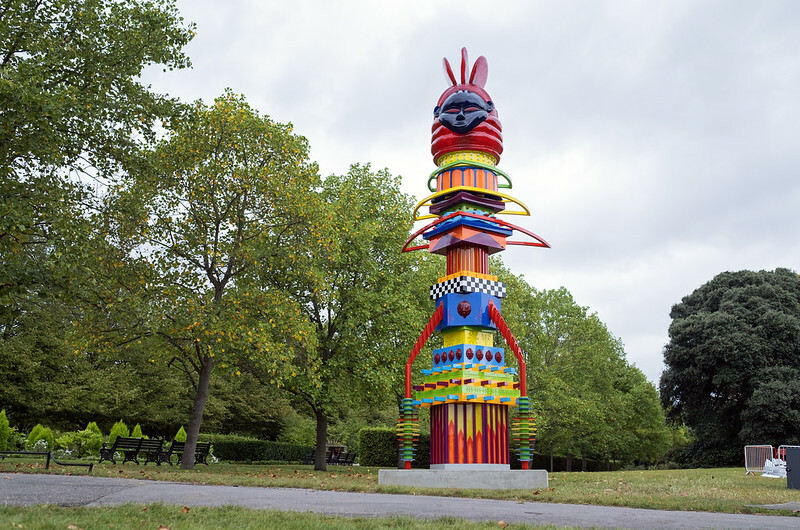 You might think autumn would be a stupid time to open an outdoor sculpture exhibition. And you'd think right. It's cold, windy, rainy and damp. This is indoor art's time to shine. But that hasn't stopped Frieze from returning to Regent's Park once again with their annual outdoor sculpture extravaganza. Sigh. Go get the beanies and brollies, we're going arting.
Six awesome artworks to see at Frieze Sculpture 2023
Josh Smith, 'Friend'
It might be called 'Friend', but New York-based artist Josh Smith's sculpture doesn't look all that friendly. That's because it's based on the figure of the Grim Reaper, who probably isn't someone you'd want to go for a pint with. It's huge, and stands with arms outstretched in the middle of the park, waiting to smother you in its embrace and sweep you off to the 'other side'. Or the pub. 
Hank Willis Thomas, 'All Power To The People'
Hank Willis Thomas recently unveiled a major public sculpture in Boston inspired by the Civil Rights movement in America, and this piece tackles similar themes. The work is an enormous Afro comb, emblazoned with a raised fist and a peace symbol. What it lacks in subtlety it more than more than makes up for in directness. 
Ayse Erkmen, 'Model for Moss Column'
Moss has been big in art for a few years now, it's a ubiquitous, damp trend that shows no signs of abating, especially now that Turkish artist Ayse Erkmen has whacked this big moss column up. The piece waters itself, thanks to a copper pipe at the top, which should come in handy should it ever decide to stop raining on this godforsaken, mouldy, wet island. 
Tony Matelli, 'Sleepwalker'
American sculptor Tony Matelli specialises in discomfiting, surreal, lifelike installations, and his nearly-human sleepwalking bloke, stumbling around the park in his pants, definitely ticks those boxes. Hope he's had a flu shot, wandering around Regent's Park dressed like that. 
Louise Nevelson, 'Model for Celebration II'
This is the most traditionally 'modern' looking sculpture on display, which makes sense, because it's by Louise Nevelson, a leading proponent of modernist outdoor art, who created this monolithic, imposing beastie back in the 1970s. You can find her works all over the US, and now this thing is here to cast its big, terrifying shadows over London too.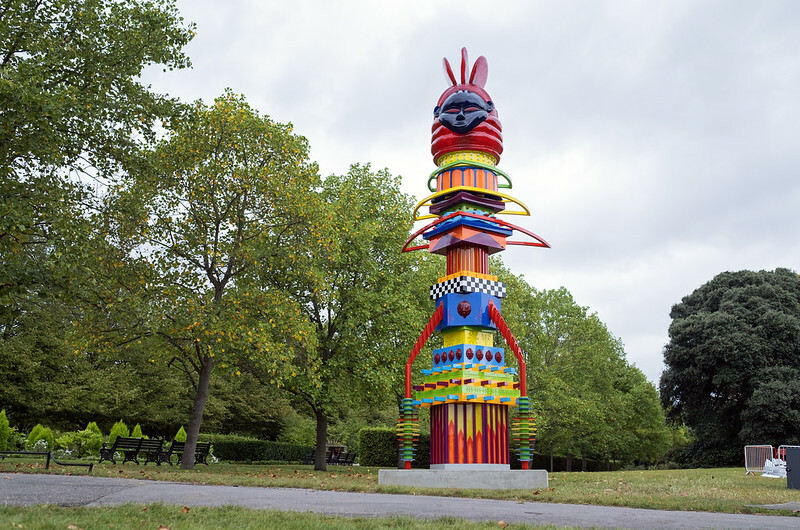 Zak Ové, 'The Mothership Connection'
This huge, nine metre high sculpture is an Afrofuturist celebration of the Black diaspora, absolutely exploding with colour and amazing details. It's sunny, fun, imposing, and almost enough to make you forget how high your heating bills are about to get. 
Frieze Sculpture 2023 is at Regents Park until Oct 29, free. More details here.
Want more art? Here are the top ten exhibitions in London.
And here are London's best free exhibitions. 
Listen to Time Out's brilliant new podcast 'Love Thy Neighbourhood': episode seven with Big Zuu in Oxford Circus is out now.
Stay in the loop: sign up for our free Time Out London newsletter for the best of the city, straight to your inbox.