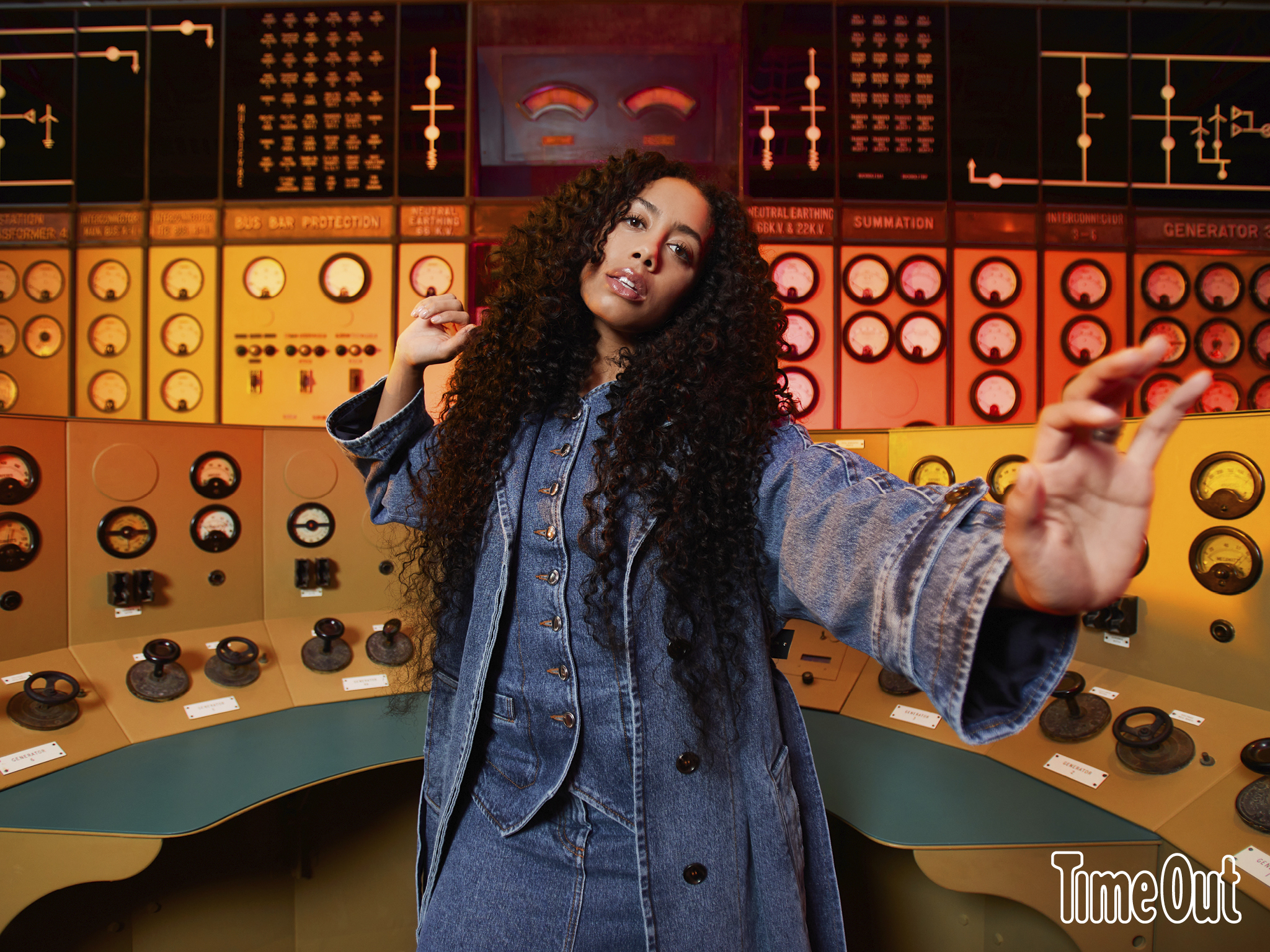 'London is feeling more and more like home as time goes on'
It's a feeling that lots of people here – myself included – will relate to. You're no longer reaching for Citymapper at every corner. You work out which off-licence is the good off-licence. The bartender at your local starts pouring your drink before you've opened your mouth. You learn that the buttons on the tube doors do nothing, that you probably want to avoid Shoreditch High Street on a Saturday night, and that Pret coffee is minging (but you'll drink it anyway).   
Jayda G is on her way to becoming a fully fledged Londoner. 'It took time to wrap my head around pub culture here,' she says. 'I didn't really get the uproar when they all closed during the pandemic. But now, I get it. And I really like the whole Sunday roast thing: it's like Thanksgiving every weekend.'
The Canadian DJ, producer, and environmentalist – also known as Jayda Guy – boogied on to the club scene around seven years ago. By 2019, she was on her way to becoming one of the most in-demand underground dance DJs on the planet, thanks to her irresistible blend of classic house, soulful vocals and contemporary disco. Since then, she's held a club residency at Phonox in Brixton as well as a year-long slot on BBC Radio 1. She's put out an album on Ninja Tune, played clubs and festivals across the world, and remixed the likes of Dua Lipa and Taylor Swift. And in 2020 she was nominated for a Grammy for her hit EP, 'Both of Us': a nostalgia-drenched dance track with a catchy piano riff and feelgood vocal loop. 
But recently? 'I've been taking the last few months off,' Jayda says. 'I don't know how DJs go through the entire year with only taking a couple of weeks during Christmas.' She later tells me she's bracing herself for more than a year of hard work to finally materialise. Finally, it's time to dance again – and Jayda G is in complete control.
Power up   
Somewhere high above the Thames, the fuzzy melody of 'Inspector Norse' is chirping out of a small Bluetooth speaker. Jayda G is bobbing up and down in metallic heels, shifting her stance in front of a camera, nodding her head to the waa-waa bass loop. We're on to her final few poses of Time Out's February cover shoot to launch a month celebrating nightlife and dance music. 'I love this track!' she says, wiggling the shoes off and making a face, before massaging her bare feet with the floor. 
Wearing baggy ripped jeans and a Prada utility shirt, she looks like some sort of ultra-glam space rocket controller, standing in front of the polished gold fronts and steel-rounded dials of Battersea Power Station's Control Room A, which distributed electricity to the city in the 1930s. 'She hated all of this,' says a toe-tapping older woman with white-blonde ringlets, nodding to the flashing camera and small crowd ooh-ing at Jayda's every angle. 'When she was seven and doing violin and singing lessons, she said she didn't want to perform in front of people ever again. I'm still shocked that she's DJing in front of tens of thousands.' 
I really like the whole Sunday roast thing: it's like Thanksgiving every weekend
Leora Guy – Jayda's mum – is visiting London from Jayda's hometown of Grand Forks, Canada. It's a small (4,000-population) town surrounded by trees and lakes. 'I go for hikes almost every day,' Leora says. 'You must visit: I'd be happy to host you.' 
Now, Jayda feels like she's in a transition of where 'home' is. (She's even in the process of applying for permanent UK residency.) 'I remember when I first moved to London and just walking around, and hearing disco in a shop or soul coming from someone's apartment,' she says. 'It was such a contrast to living in Berlin and just hearing techno all the time. I remember thinking: Oh, I definitely moved to the right place.'
She came here in 2019, after four years of living in the German capital. There, a lot of club culture conforms to a particular stereotype: parties last for 24 hours at a minimum, punters wear leather harnesses under oversized trench coats, their tiny sunglasses masking judgmental glares and heartbeats juddering somewhere between 125 and 140 bpm. It's not necessarily a bad thing, but there's definitely a degree of pretence that comes along with being that cool. 
'I used to be part of that scene – I call it the "chin-scratchers",' Jayda says. 'You can definitely find that culture in London if you want to, but I'm just so not a chin-scratcher. I played Prince's "1999" during New Year's! When you're playing disco, it can be a push and pull thing sometimes, but [in London] people just get it.' 
Ground control 
Jayda dropped the first single from her upcoming album, 'Guy', yesterday. 'Circle Back Around' is a hazy tropical house track, with light, poppy vocals from Jayda herself. It's not the first time she's sung in her music: Fred Again…, who she worked with on 'Both of Us', encouraged her to use her voice for the first time on that EP, and since then, she's been getting regular lessons. In fact, she sings on every track on the new album. 
'I'm by no means a great singer,' she says. 'But I know I can sing and I want to get better. So I made a conscious decision: If I'm going to sing on my own tracks, let's put more effort into this and get lessons.' 
Vocals aren't the only reason why 'Guy' is a departure from her previous work. It's more melancholic, more conceptual and undeniably more commercial-sounding. For her diehard house fans, it will come as a surprise – and as a woman in dance music, she's almost certainly going to be dealing with some harsh criticism. 'If they think I'm selling out, they would have thought that already with "Both of Us",' Jayda says, matter-of-factly. 'In the end, you have to make yourself happy, because you're the one who has to live with that work.' 
Grief is a funny one, because there's no end to it
She pauses again. 'But it definitely is different,' she says. 'I think a lot of artists probably can relate to this: there's the artist Jayda G, and then there's Jayda. Jayda G is quite one-dimensional: she's very happy, she's fun, she's bubbly, she's dancing all the time, looking cute. There's more to me than that.'
In the music video for 'Circle Back Around', there's home-video clips of Jayda dancing around a bedroom as a kid, interspersed with a clip of a Black man speaking to the camera: her late father, William Richard Guy, who passed away from cancer when she was ten. 'About a year before he passed, he decided to make these tapes recording himself talking about his life, essentially,' she explains. 'And I'm so grateful he did.'
There's a full 11 hours of footage. Luckily for Jayda, her older siblings had already transcribed and organised the tapes, so she took all the material to use as a foundation for the album. 'Grief is a funny one, because there's no end to it,' Jayda says. 'It's more like you learn to live with it and you have a relationship with it. That's kind of what this album was exploring more in-depth.'
Despite it clearly being a dance album, many of the tracks on 'Guy' have a jarring juxtaposition between uplifting chords and heavy, narrative lyrics, painting a picture of her father's life: from him growing up in poverty in 1950s Kansas City, to serving in the Vietnam war and inadvertently becoming caught up in the 1968 Washington race riots.
'I started the songwriting in the pandemic, when the Black Lives Matter Movement really picked up steam,' Jayda says. 'I was like: Wow, things haven't changed much. I wouldn't even say it makes me feel angry, just disappointed, and tired. So, a chunk of this album is talking about perseverance, and what it means to move through the world when you don't look like the person favoured in society.'
Short circuit 
'The original came out when I was a teenager,' says Leora, who's two-stepping to a remix of 'Spooky' by Dusty Springfield while we wait for Jayda's touch-up. 'I'm just powdering my titties!' she shouts over.
'She's incredibly hardworking,' says Leora, with a protective glance. 'I'm proud. I just hope people enjoy this album, because it came from the heart.' She fumbles in her pocket and takes out her phone, showing me a photograph of Jayda, diving underwater, smiling, nose to nose with a large, grey manatee. 'That's the other side of her.' 
On one of Jayda's TikToks, she says that she wants to be a 'Black female David Attenborough'. An enthusiastic campaigner, she has a masters degree in environmental toxicology and runs a science-based interview series, JMG talks. More recently, she's been working on an environmental documentary, 'Blue Carbon', directed by the Emmy-winning Nicholas Brown, which will air on CNN later this year. 'Blue carbon ecosystems are between four to 50 times better at taking carbon out of the atmosphere, versus something like the rainforest,' Jayda explains. '[The film] explores the nuances of these ecosystems and the people that live around them. There's such a huge social justice element to it – I don't think we really knew that it was going to be like that when we started making it.' 
As a woman – and as a Black person – there's only so much you can take on
The film features music from Wu Tang's RZA and Brazilian pop-samba star Seu Jorge, and Jayda hopes that it will help to reach an audience not normally invested in the sciences. But there's an obvious elephant in the room: surely being a touring DJ and calling yourself an environmental advocate is a bit of a paradox? 
'I'd be lying if I said I didn't feel any conflict,' she says, putting her hands up. 'I'm the first one to say my carbon footprint isn't the greatest. But I don't just do one-off gigs in Dubai. If I'm going to the States, we try and do a whole tour. If I'm going to Australia, I go for months, etc. And we have carbon-offset programmes that I'm a part of – in the film, we talk about the pros and cons of them.'
If it weren't for Jayda's background in biology, it could be easy to think her campaign work was part of a PR machine. But she never veers from reality or comes across overbearing. 'If you work in sciences, you're painfully aware of everything,' she says. 'There's definitely moments [in the film] of feeling like we're all fucked. But as a woman – and as a Black person – there's only so much you can take on. And let's be real: not everyone wants to camp in trees.'
High voltage 
Six hours later, Jayda kicks off her heels for good and everyone cheers, before heading down the freshly painted back corridors of Battersea Power Station. She and Leora are going back to Jayda's place in Clapton, before going to see 'Orlando', the stage adaptation of Virginia Woolf's novel with Emma Corrin.
They always try to fit in a dose of culture when she's visiting. 'My mum loves opera,' Jayda says. 'Friends would always come into our family home and hear opera blaring. My father loved soul and R&B: he just loved to dance. My brother has this memory of how he'd push away all the couches and make a dancefloor. That's who I get it from.' Recently, she went with her girlfriends to see the Amapiano DJs Scorpion Kings play at Printworks. 'It was…' she nods enthusiastically to finish the sentence, before letting out one of her signature cackles.
'My laugh is the same as my dad,' she said earlier. It's a laugh that fills up the room, one that tickles the bellies of everyone in it and forces them to join in. Like Jayda, it doesn't hold back. She's not afraid of being perceived as uncool, or to dance as she pleases, or to laugh after every sentence. But she's also got a side to her where she's determined about her values and talks confidently about things that are uncomfortable. 
For some people, music intended to be blasted to sweaty rooms of fucked-up kids might not seem like a natural vehicle to talk about issues like racism and brutality, as she does on her new album. But for Jayda G, it's obvious. 'When dance music started in New York, Chicago, and Detroit, it was a genre for people who were oppressed: Black people, gay people. Somehow, dance music has veered into this place where it's not really talking about as much. It can be so vapid. But if you're dancing and you hear something that really hits home, how much harder do you start dancing?'
'Guy' by Jayda G is released later this year. The single 'Circle Back Around' is out now. Watch the video for 'Circle Back Around'.
Make-up: Adam de Cruz
Hair: Louis Souvestre
Styling: Douglas Broad
Location: @batterseapwrstn, @controlroomb
Look 1: All clothing: Chloé; shoes: Bottega Veneta
Look 2: Jacket: Valentino; top: Rick Owens; trousers: Polar Skate Co.
Look 3: Dress: Louisa Ballou; shoes: Loewe
Look 4: Coat: Raey; shirt and shoes: Prada; trousers: Maison Martin Margiela