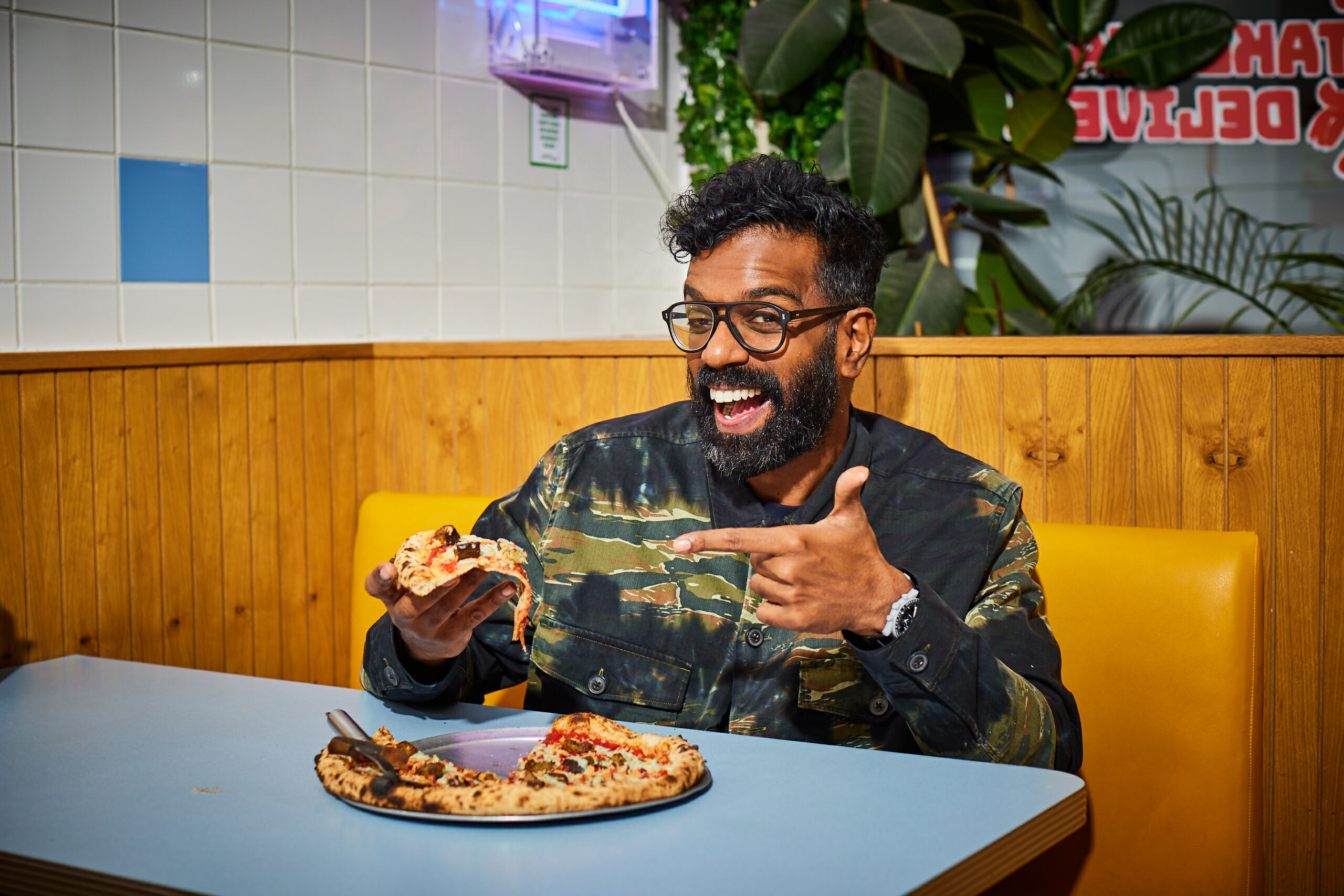 Romesh Ranganathan isn't just a funny guy. That was 2022 Romesh. 2023 Romesh has range. The comedian is now also a culinary king and he's kicking off the new year in the form of a very special plant-based collaboration with the faves at Yard Sale Pizza. 
Available at all branches of Yard Sale from January 4 until the end of this month (which is apparently known as 'Veganuary' in some circles), the 'Romesh Spesh' is a totally vegan 'za topped with curried aubergine, coconut sambol, mint raita, curry leaf and chilli oil. It's based on Romesh's mum's Sri Lankan aubergine curry. Interested? We imagine you are. 
'The team at Yard Sale worked out a way we could get the flavour of an aubergine curry to work on a pizza,' Romesh told Time Out, 'and, boy, did they achieve that. I've always loved coconut sambol, and with the mint raita it rounds off the pizza perfectly for a decent amount of spice and freshness.' 
As well as the collab sounding absolutely delicious, a portion of the proceeds from sales of Romesh Speshes will go to mental health charity CALM. This really is guilt-free gluttony at its finest. 'My mates have all told me that this is a career highlight for me,' added a deeply excitable Romesh. 
Grab a Romesh Spesh in either 12″ or big old 18″ sizes and eat in at one of Yard Sale's nine London locations – from Crystal Palace to Walthamstow – or scoff it in the comfort of your own home via delivery or takeaway. We don't mind if you don't want to the leave the house; it's cold and dark outside, and there's a new season of 'Happy Valley' to watch.
Veggie Pret is closing all but two of its London branches.
This 'Emily in Paris' heart-throb star has just opened a north London dive bar.