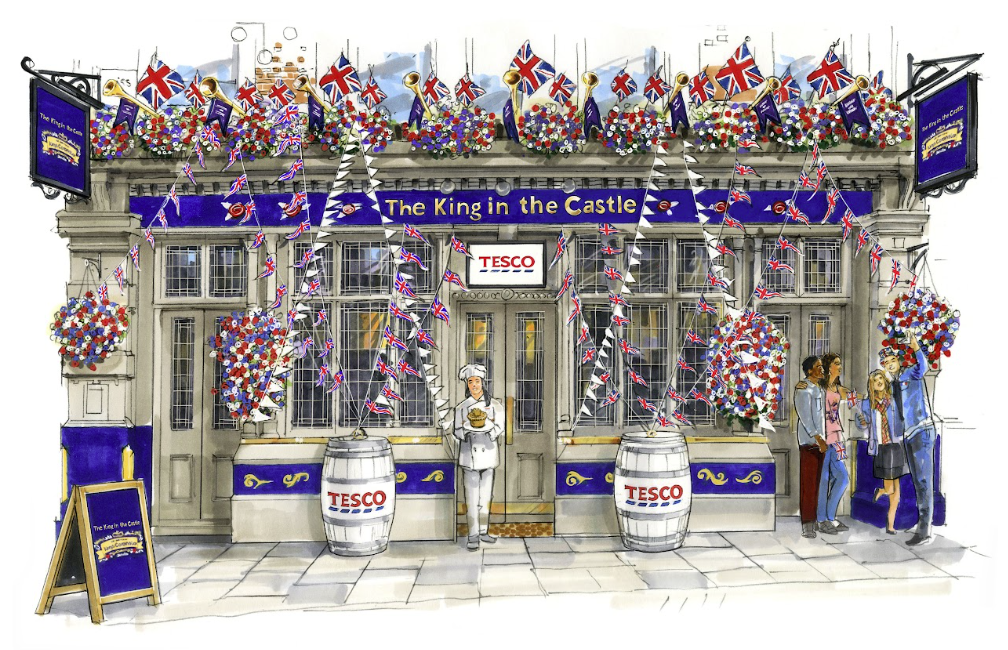 Fancy a pint down the local Tesco? Yep, you heard that right. The trusty blue and red supermarket has opened a Tesco boozer to celebrate Chazza's coronation.
The King in the Castle will open in Farringdon for two days only on May 4 and 5, with all proceeds going to youth charity The Prince's Trust.
What will they have on offer? Pints, of course. And you'll also be able to eat like a King with a Corrie Naish themed menu from Tesco's limited-edition range, which includes Camilla's King Prawn Curry, 'The Prince's Crust' Pie, and a trifle inspired bellini. Or, if you don't fancy a full meal there will also be free samples of the eats to gobble down outside the venue. 
In true Old Blighty spirit, the boozer will be decked out in festive gear, including flowers and bunting. 
Alessandra Bellini, Tesco chief customer officer said: 'The Coronation is a historic moment and we want to help our customers celebrate it. As one of the most enduring parts of British culture, pubs have traditionally been an important part of local communities and so a pub felt like the perfect way to bring people together to mark this special occasion and enjoy delicious food.
'What's more, we'll donate £250,000 from the proceeds of sales of our limited-edition Coronation range in-store, along with all proceeds from the pub to The Prince's Trust so we can all enjoy food that both tastes good and does good.'
Bookings for the The King in the Castle are open now via OpenTable. There will also be space for walk-ins. 
The King in the Castle. 34-35 Cowcross Street, EC1M 6BD. May 4-5, Noon-11pm. 
All the London road closures and travel restrictions for King Charles's coronation