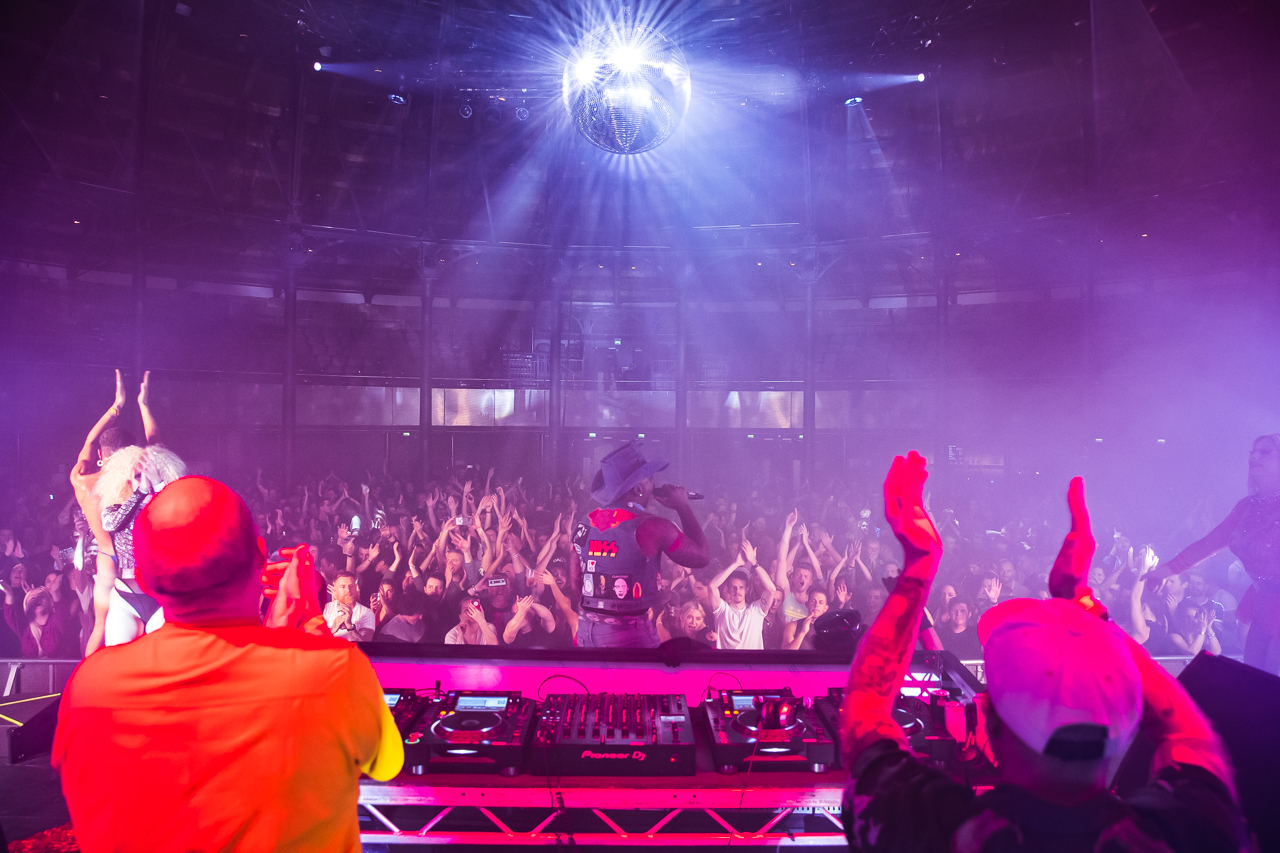 London's LGBTQ scene has faced its fair share of challenges – among them: gentrification, a pandemic and the ongoing cost-of-living crisis. But somehow, the city's vibrant and defiant queer community always bounces back. In addition to some awesome LGBTQ clubs and bars, London has a pretty dazzling array of LGBTQ club nights. Here are 15 of the very best, from radical queer raves to ridiculously fun pop parties.
1. Feel It
Held every Friday at London Bridge venue Omeara, this self-styled 'queer super-party' lives up to its billing. The genuinely diverse crowd includes plenty who like to dress up, and plenty who like to undress as the night progresses, especially in the sweaty main room. Banging house is the soundtrack there, while two other rooms are dedicated to chilled disco and pop. Brilliantly produced by London club legend Jodie Harsh and the Little Gay Brother crew, Feel It brings Berlin-style thrills and spills to south London.
2. Butch, Please!
Launched by Tabs Benjamin in 2016, this monthly club night at south London's Royal Vauxhall Tavern celebrates the butch identity and its place in queer culture. Each party has a different theme – from 'kinky butch' to 'muscle butch' – and prides itself on being fully 'dyke-centric' from the performers to the door policy. It's a space for lesbian and bi women, as well as trans and non-binary people, so don't bring your cis male mates.
3. Horse Meat Disco
There's a reason Horse Meat Disco has been filling Vauxhall's Eagle on Sundays since 2003.  It's fun, friendly, a little bit fashion – though if you rock up in a T-shirt, no one will care – and the music is impeccable. DJs James Hillard and Jim Stanton always deliver a heady mix of disco, soul, funk and house that will delight dance music connoisseurs and casual clubbers alike. And you might even spot HMD regular Sam Smith on the dance floor.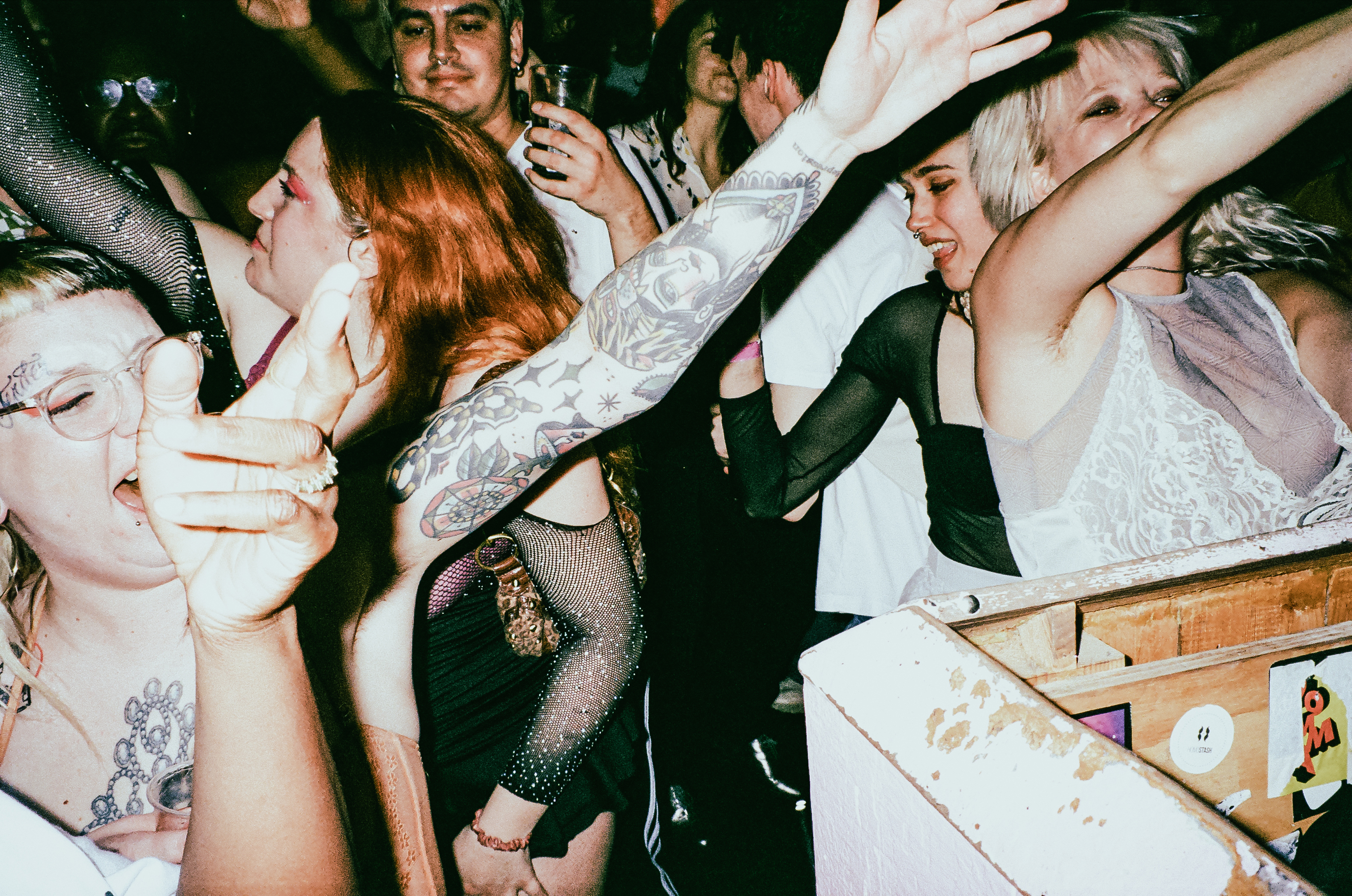 4. Fèmmme Fraîche
This bimonthly club night is proudly FLINTA-focused, which means it centres female, lesbian, intersex, non-binary, trans and asexual folks, plus everyone in between. Held at East London's beloved Dalston Superstore, it attracts a cool, forward-thinking crowd who dance to house and techno in the basement, and everything from Le Tigre to Dua Lipa upstairs. Each party offers a platform to up-and-coming performers and film-makers, so it's a nourishing night all round.
5. Chapter 10
For nearly a decade, the Chapter 10 gang have been bringing their 'queer dance party' to East London's coolest venues; their most recent rave took place in late-May at Hackney Wick's Colour Factory. They like to create an intoxicating, warehouse party vibe, where you'll hear loads of great techno and progressive house music, and absolutely no bland mainstream bangers. David Guetta, it's safe to presume, will not make the playlist.
6. Roast
Branding itself 'London's beefiest club night', Roast has established itself as the natural – but much less problematic – successor to pre-pandemic bear night XXL. It's men-only, but unlike at XXL, you won't be turned away for arriving in heels. It takes place fortnightly at Angel's Electrowerkz, where a sex-positive and mainly topless crowd ping between five rooms including a downstairs pop space and a dark room that gets very busy indeed.
7. Queer Bruk
Since being launched by Akeil Onwukwe-Adamson in 2018, Queer Bruk has truly made its name as 'London's duttiest Black Queer night'. Whether it's packing out East London strip club Metropolis or a curating an event at Southbank Centre, Queer Bruk creates a warm and welcoming safe space for LGBTQ people of colour, soundtracked by an absolutely banging mix of Afrobeats, dancehall, soca, disco and house music. 
8. Adonis
Pioneers of London's queer clubbing underground, Adonis now throw daytime raves and after-dark parties at 60 Dock Road, a new warehouse space in the Docklands. The vibe is just as wild as when they were based in Tottenham, though, and you'll still find revellers from across the LGBTQ spectrum getting down and dirty to the freshest techno, acid and house beats. Each rave rages for eight hours so you'll want to pace yourself. 
9. Duckie
Last summer, after 27 years hosting Saturday nights at the Royal Vauxhall Tavern, the Duckie collective moved down the road to Eagle. They now lay on an 'electric tea dance' every Saturday afternoon from 2pm-8pm featuring their unique fusion of  alternative cabaret shows, eclectic DJ sets, and off-the-wall performance art. If you're more of a night owl, bookmark the last Saturday of every month, when Duckie take over the same venue for 12 straight hours until 2am.
10. Big Dyke Energy
Starting life in 2019 as a one-off event staged in response to a lack of dance music nights catering to queer women, non-binary and trans people, BDE has since become one of south London's most popular queer nights, regularly selling out Surrey Quays warehouse space Venue MOT and even staging its own one-day festival in Bristol earlier this summer. Be sure to catch one of the four remaining dates in 2023; the night will be going on hiatus at the end of the year so that its founders can take a well-earned break. 
11. Inferno
Launched by DJ and artist Lewis G. Burton in 2015, Inferno styles itself as a 'techno rave-cum-performance art platform'. Though it's grown in size over the years, and now takes place at capacious Hackney Wick venue Colour Factory, it still prioritises trans, non-binary and queer DJs and performers. And the aim remains, brilliantly, to 'marry the camp with the underground, pop with techno, and the good with the bad'. Long may it continue!
12. Queer House Party
This collective came together during the pandemic, when their live-streamed raves kept the radical and inclusive spirit of LGBTQ clubbing alive. They now put on equally radical and inclusive IRL parties with a particular emphasis on accessibility: they're committed to booking deaf and/or disabled performers for every event, and free tickets are available to support workers and folks without the means to pay. They've even opened for Years & Years at Wembley Arena.
13. Boudica
Named after an ancient queen who's been embraced as a queer icon, this club night and record label explores the 'darker and hedonistic side of electronic music'. It's run by and showcases women and non-binary folks, though everyone who likes their techno music served with a punky attitude (and equally punky looks) will wear out their dancing shoes. Look for Boudica soon at Canning Town venue Fold.
14. Push the Button
Named after a Sugababes banger, PTB is one of London's best and longest-running pop nights. It takes place at the Royal Vauxhall Tavern on the last Friday of every month and celebrates a different diva each time – Beyoncé, say, or Lady Gaga – while blasting out hits from the '90s onwards. It also has a healthy sense of humour: a few years ago, the results of its 'Minogue Referendum', at which punters voted for either Kylie or Dannii, were announced onstage by Labour MP Emily Thornberry. Camp!
15. Howl
When it launched in 2019, Howl's stated mission was to 'bring together LGBTQ collectives from different scenes across the UK under one roof'. It's succeeded so spectacularly, and with sex-positivity at its very core, that it now sells its own signature lube. Howl's super-inclusive raves at Hackney Wick's Colour Factory attract clued-up clubbers from across the gender and sexuality spectrums, and often feature speed dating events. Party on, lads. 
The best LGBTQ and gay clubs in London
LGBTQ landmarks in London you can visit