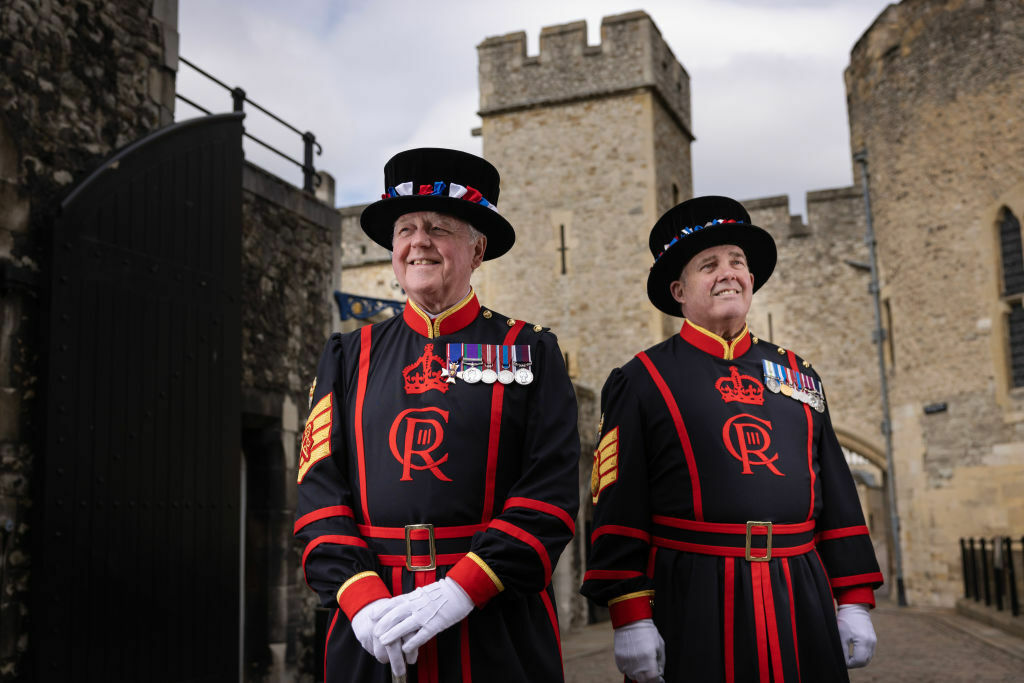 The Beefeaters at the Tower of London have had fresh uniforms made for King Chazza's coronation. Previously baring 'EIIR' for Queen Elizabeth II, the blue and red ensemble is now emblazoned with the cypher for the King: 'CIIIR'. 
The guards – officially known as Yeoman Warders – who watch over the Crown Jewels, have worn the sovereign's initials on their coats since the days of Elizabeth I in 1570. 
Each new uniform, which is called the 'Blue Undress', took more than 30 hours to complete, with every coat weighing between 2.3kg and 3kg. A team of more than 40 tailors at Kashket and Partners assembled to create the new drip. The coats are donned by each warder over the top of navy trousers, a red and navy tasselled hat and buckled shoes. 
The boys in blue became known as Beefeaters because of their ration of daily meat back in the day. In 1813, the 30 warders were given 24lbs of beef, 18lbs of mutton ad 16lbs of veal. Tasty!
Pete McGowran, chief Yeoman Warder at the Tower of London, said: 'We are delighted to be able to unveil these new uniforms in the week preceding the coronation, continuing the Yeoman Body's proud and long-standing association with the monarchy.
'It will be an honour and a proud moment for us all to wear them in this very special week.'
Everything we know about King Charles III's coronation concert
The best coronation events in London to celebrate King Charles III