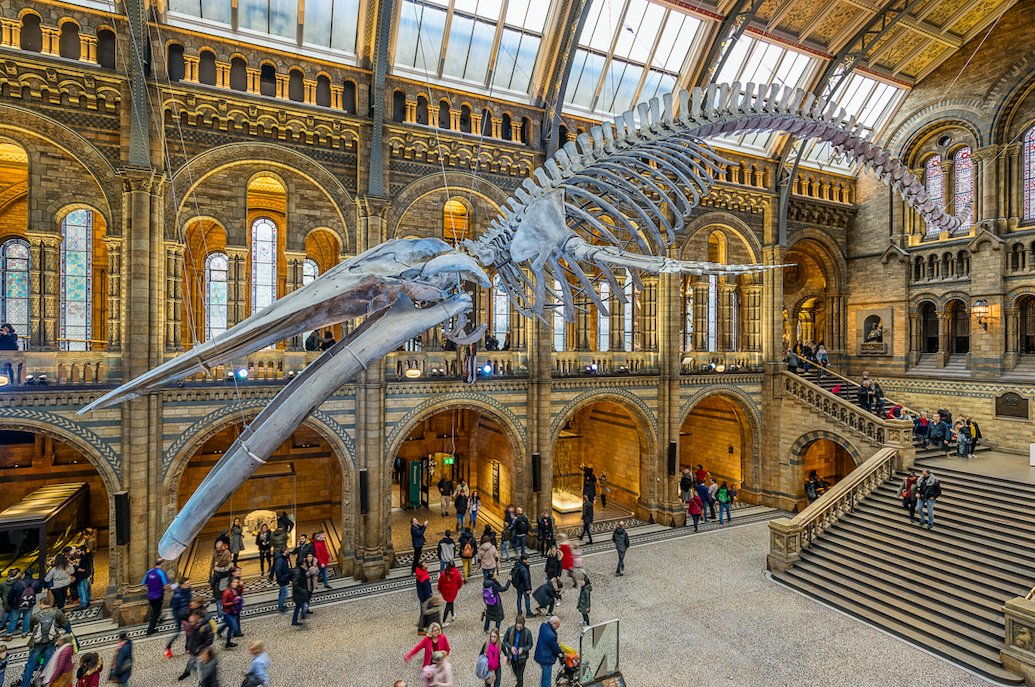 It rains in London. Lots. Even in the summer. It can also be quite chilly. This means you'll frequently find Londoners on the hunt for interesting places to hide away from the elements. So, it's sweet relief to know that our fine capital city houses the UK's most popular indoor attraction, which surely makes it the UK's very best indoor attraction (that's what we're claiming, anyway). 
A ranking of visitor numbers by The Association of Leading Visitor Attractions has crowned the much-loved Natural History Museum in South Kensington the most-visited indoor attraction in the country. According to the data, a whopping 4,654,608 people passed through the grand doors of Alfred Waterhouse's landmark romanesque building in 2022. 
It's no wonder that visitors flock to the capital's cathedral of nature. The 142-year-old museum and research centre is home to more than 80 million items, including a cup made from a human skull, a life-size animated T-Rex, an earthquake simulator, cabinets full of sparkling gemstones and beautiful glass models of marine invertebrates. Even the entrance hall has a massive 25-metre-long blue whale skeleton hanging from the ceiling (called Hope, fyi). What's more, it's totally free to see all the main collections making it the perfect spot for a family-friendly day out or a fun pitstop to hide away from the weather on a day out. 
The Cromwell Road institution isn't the only indoor attraction in London to make the list. Ranked close behind it are the British Museum, Tate Modern and Southbank Centre, all of which entertained over 2.9 million people each last year. Essentially, if you like being indoors then London is a pretty good place to be. Great news for our cultural knowledge, less great news for our vitamin D levels. 
Natural History Museum, Cromwell Rd, SW7 5BD. Main museum free.
Find more great excuses to stay indoors in London this week.
There's a new exhibition about legendary London goth club The Batcave.