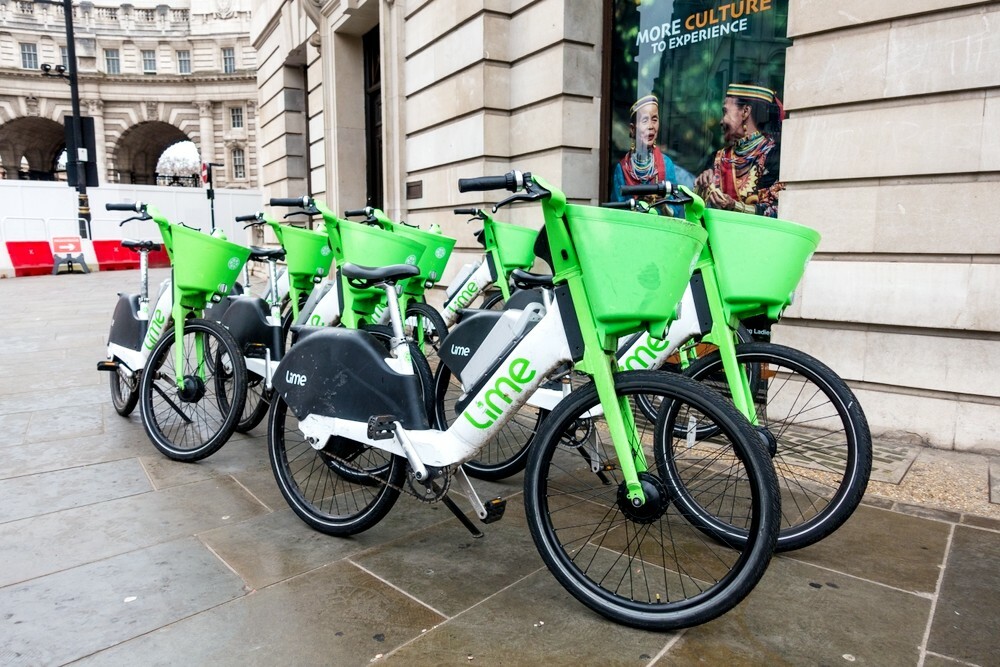 Soon in one south London borough you won't be able to leave your Lime bike just anywhere after using it. Lewisham is introducing new Lime bike parking bays in order to stop the rental bikes from blocking pavements, which are causing plenty of problems – including proving dangerous for blind and disabled people. 
Now Lime and Lewisham Council will install 300 bike parking bays across the area. If a Lime bike isn't parked in a bay users won't be able to end their journey and will continue to be charged until they stop in a designated area.
Other boroughs, including Camden, Westminster, Hackney and Kensington and Chelsea have already enforced rules around dockless e-bikes amid concerns from the public that they were a hazard on pavements. 
Councillor Louise Krupski, Lewisham's cabinet member for environment and climate action, said: 'Dockless hire bike schemes are a great way to promote active travel, provided they are managed properly.
'By agreeing this new partnership with Lime, we can support people in Lewisham to make more journeys using hire bikes, as well as addressing existing issues with inconsiderate parking and discarded bikes.'
Manish Kharel, general manager for Lime in London said the bike company had 'worked closely with the council to identify suitable locations for these bays – clear of pedestrian walkways and based on Lime trip data to ensure they are in areas of high demand'.
Lewisham's Lime bays will be installed in phases over the next six months, starting in the north of the borough, where usage is highest, and then working south.
Sounds like a win-win situation. And if you're not parking in the right place? On yer bike. 
Why do Lime bikes click clack, anyway?
Listen to Time Out's brilliant new podcast 'Love Thy Neighbourhood': episode seven with Big Zuu in Oxford Circus is out now.
Stay in the loop: sign up for our free Time Out London newsletter for the best of the city, straight to your inbox.