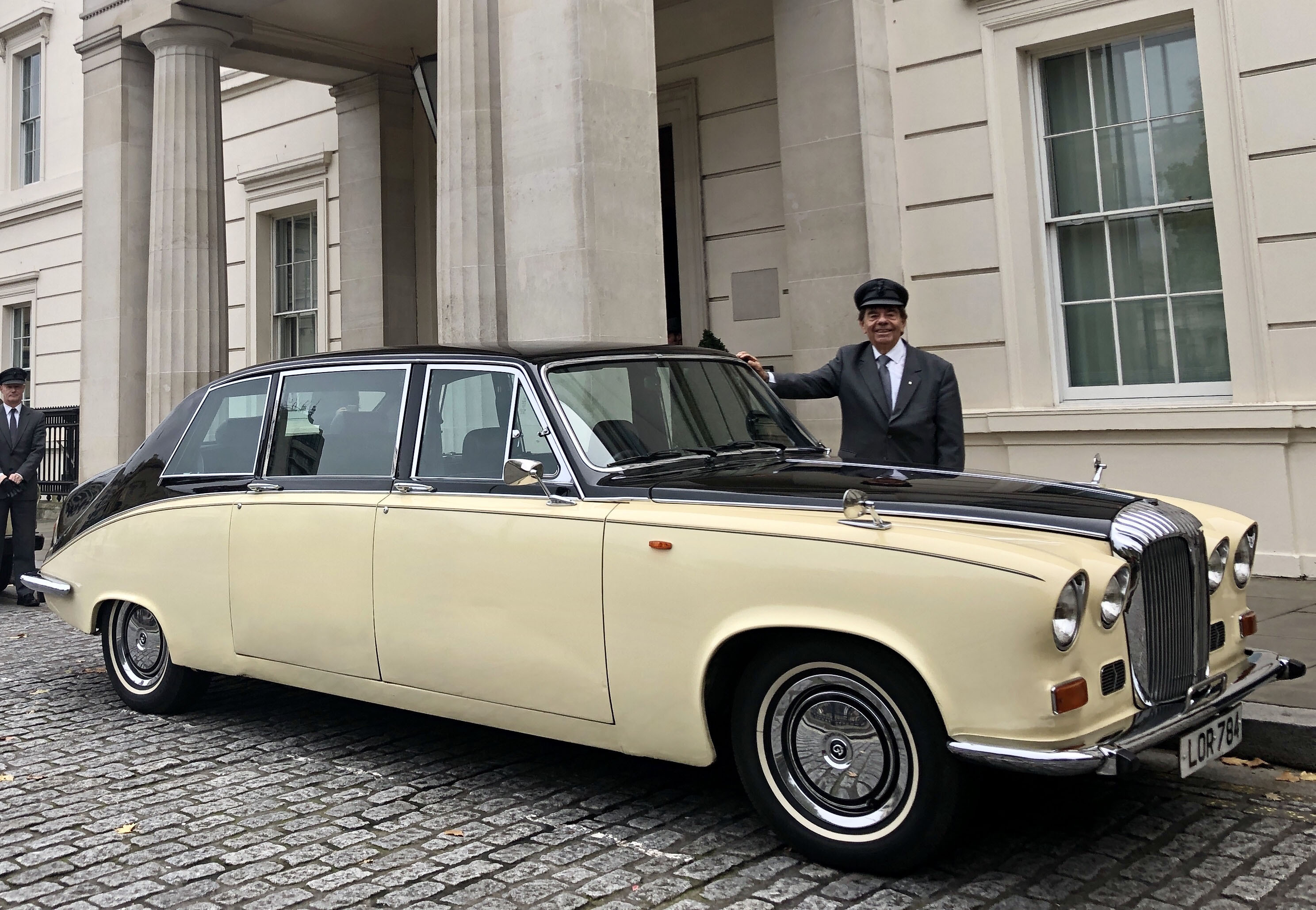 As the King's coronation approaches, London is finding ever more creative ways to court the hordes of royalists who'll be in town for the big weekend. In the transport-themed category alone, there are boat parties, bus tours or rides in the London Eye's official Coronation Capsule, complete with velvet-draped throne. But why stop there? One company is letting people pretend to be an actual member of 'the firm' by offering chauffeured rides in the late Queen Mother's car.
This high-end set of wheels is a Jaguar Daimler limousine that could once be spotted pootling round '80s Kensington, carrying its headscarf-wearing owner and a corgi or two, and painted in the royal colours of black and burgundy. In 1991, it was given to the mayor of Richmond-upon-Thames, and its origins were soon forgotten as it changed hands multiple times. Eventually, car enthusiast Trevor Lee bought it for just £2,000, and devoted himself to restoring it, before doing some serious digging to uncover its royal origins.
Now, Milestone Hotel and Beyond Curated are teaming up to provide city tours in this historic motor. The route focuses on the UK's three King Charles, past and present. That means getting a secret tour from Tower of London's Yeoman Warders, poking around Hampton Court Palace before it opens and stopping in at more unexpected destinations like Guildhall Art Gallery, which holds a bust of a youthful Prince Charles made in 1969. There's also the chance for shopping sprees at top hat shop Locke & Co or shirt-measuring sessions at Jermyn Street's tailoring shops. So if for any reason you feel moved to cosplay as a senior royal, this is undoubtedly one of the most authentic ways to do it.
Still, this royal jaunt doesn't come cheap. Prices start at £2,500 for four people (more than the car once cost) and you'll need to pay extra if you want to ride in the Queen Mum's old banger itself (instead of another, less historic motor, like the peasant you are). For that money, you'd hope to find a few bottles of her favourite tipple Dubonnet stashed in the glovebox – liquid inspiration for any dainty royal waves you might plan to direct at passers-by.
On a budget? Here are some easier ways to mark the Corrie Naish
London's black cabs have been fitted with some very important new equipment