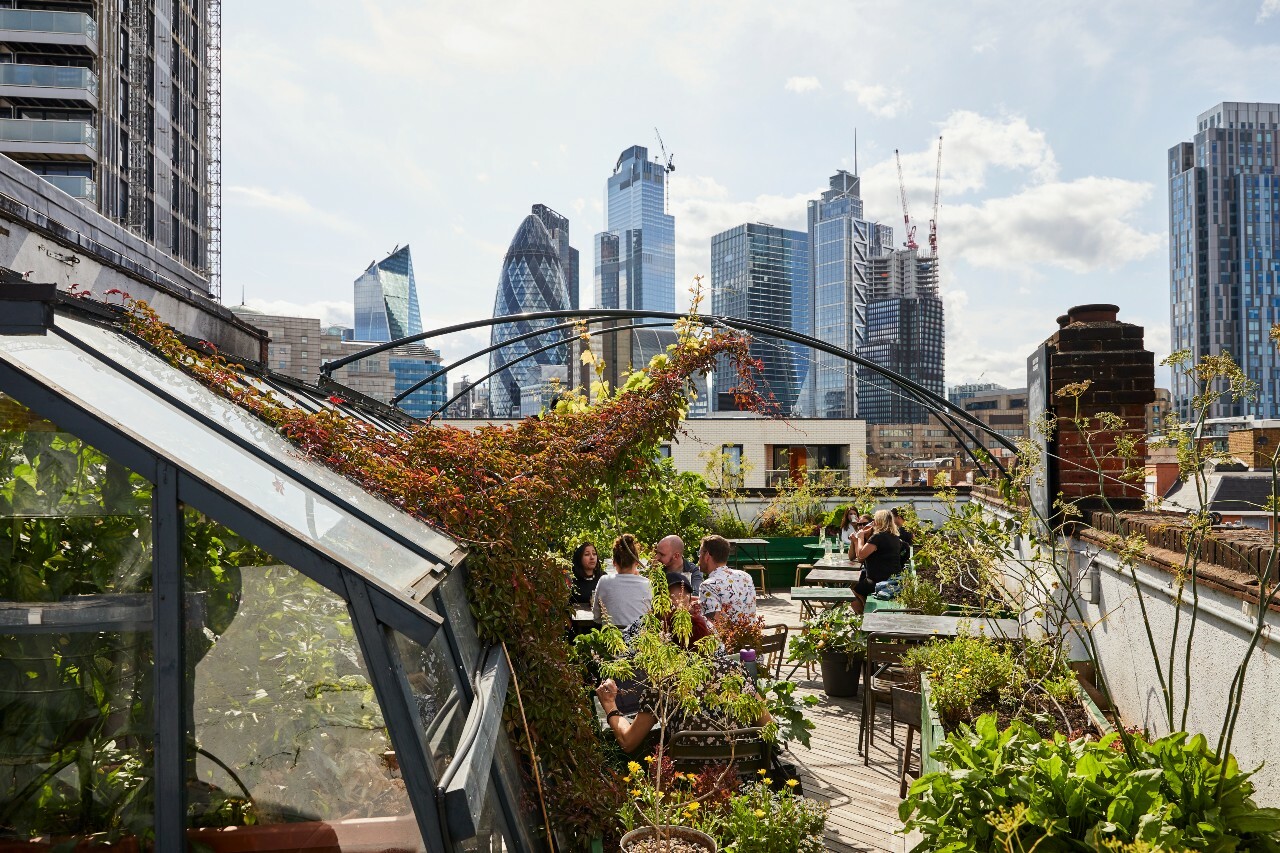 When it comes to sustainable dining, London has a variety of amazing options. With Earth Day on April 22, what better way to show the world some love than by eating at a climate-conscious establishment?
Whether you're looking for an eco-friendly eatery serving up classics or a sexily sustainable restaurant with a mean steak and chips, you're sure to find it in the city. Here are five of our favourite planet-friendly spots. 
Located just a stone's throw away from St James' Park, the sexy, dimly-lit Fallow, is a gastro-restaurant that specialises in some of the most delicious food in town. Home to a variety of delicious dishes such as rare flamed mussels and smoked beef ribs, Fallow makes the perfect spot for a moody date night or for any ol' special occasion that tickles your sustainable fancy.
 The high-end establishment even has a mushroom treehouse in the basement, no, seriously. In a 6ftx6ft room that is built literally on top of a fridge below the restaurant, the team grow their own mushrooms, which you'll find in a variety of dishes such as the delicious mushroom parfait.
52 Haymarket, SW1Y 4RP
If you've ever wanted to dine in a former confectionary factory on the river, now's your chance. With its sleek, Scandinavian decor and warehouse vibe, Silo is a place where all of your minimalist, zero-waste, fine-dining dreams come true, without compromising flavour and flair; but the carefully crafted menu is certainly not for the faint-hearted. 
Hero-ing unusual ingredients (such as pig head cull yaw – an old sheep, past breeding age) that would otherwise go to waste, the eco-friendly eatery allows diners to experience gourmet gastronomy while simultaneously reducing their carbon footprint. Silo also eradicates the need entirely for a bin (no, seriously) by directly trading with local farmers and suppliers, choosing local ingredients that generate no waste and composting any leftovers and scraps. Does it get any better than that? 
Unit 7 Queens Yard, E9 5EN
If you're looking for pizza with a little bit of pizazz, then you'll love this place.
Based in Kennington, the laid-back gastro-pub prides itself in producing authentic Napoli-style pizza. The South London spot has a no-plastic packaging initiative and rooftop garden, which is where they grow their own produce and keep their own bees… impressive, right?
The eco-friendly establishment commits itself to producing fresh ingredients such as tomatoes, lemon and basil, which all eventually end up in the dishes served downstairs. They also make some of the most delicious honey south of the Thames, so whether you order a classic marg or a cosy Sunday roast, just know that it's made with a lot of love.
67-69 Kennington Rd, SE1 7PZ
Floating on the River Lee in Hackney Wick, Barge East prioritises its sustainable ethos by growing its own produce, as well as refilling and reusing its liqueur bottles and transforming uneaten meals into compost.
Barge East is as good for the planet as it is for the stomach. With yummy, ethically supplied dishes such as braised ox cheek and honey-glazed chicory, as well as cosy boat aesthetics, it's the perfect place to have a guilt-free dining experience. So, grab your captain's hat and hop on board. 
White Post Ln, E9 5EN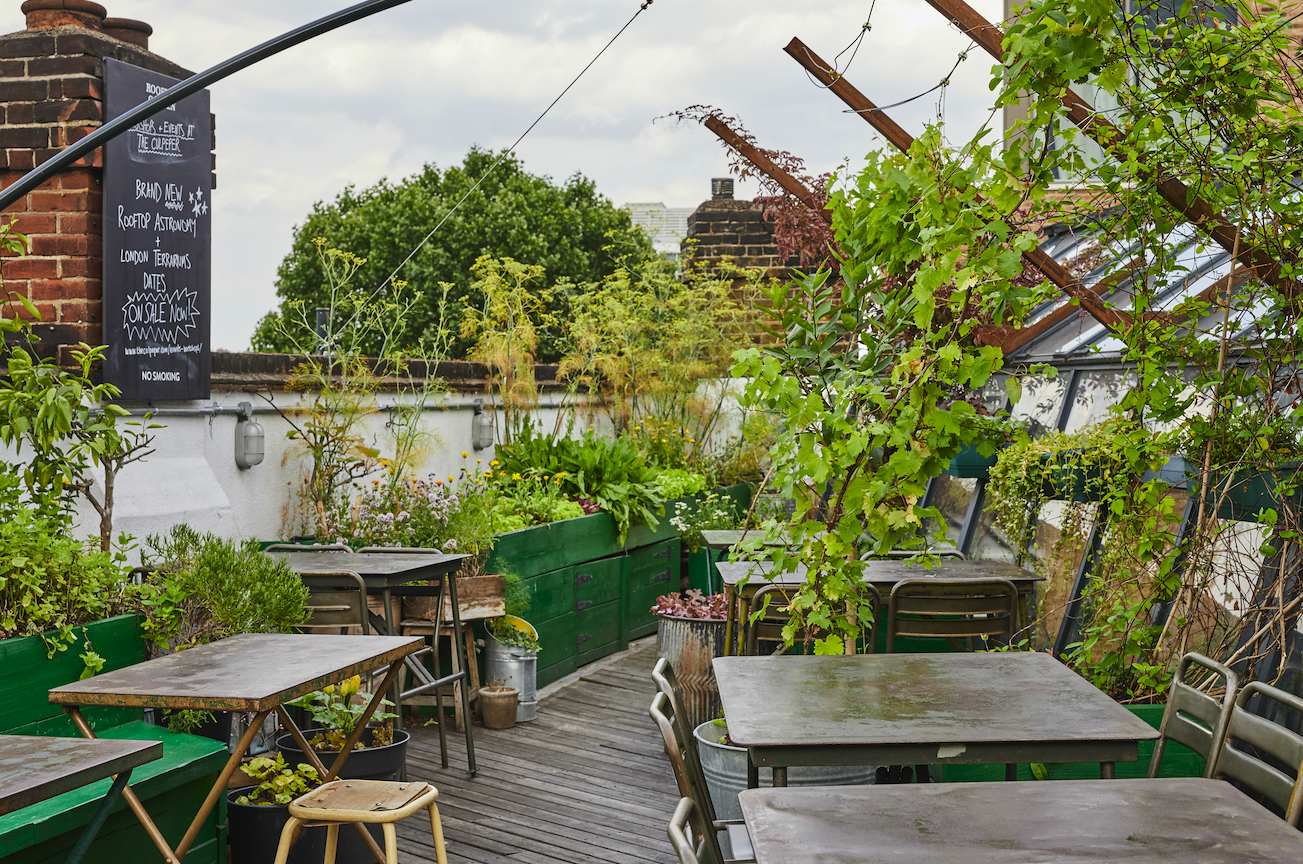 If you're looking for a place that has more to offer than a guilt-free bite, then try this airy, industrial-chic spot, which triples as a hotel, pub and rooftop garden. 
Just a short walk from Aldgate East, The Culpeper boasts an impressive 1,400ft rooftop garden, where they grow fresh veggies and herbs. By taking these ingredients and incorporating them into dishes such as pan-fried gnocchi with wild garlic or asparagus orzotto with rosemary pesto, your experience will be deliciously fresh. Lush and wholesome AF.
40 Commercial St, E1 6TB
These are the 50 best restaurants in London