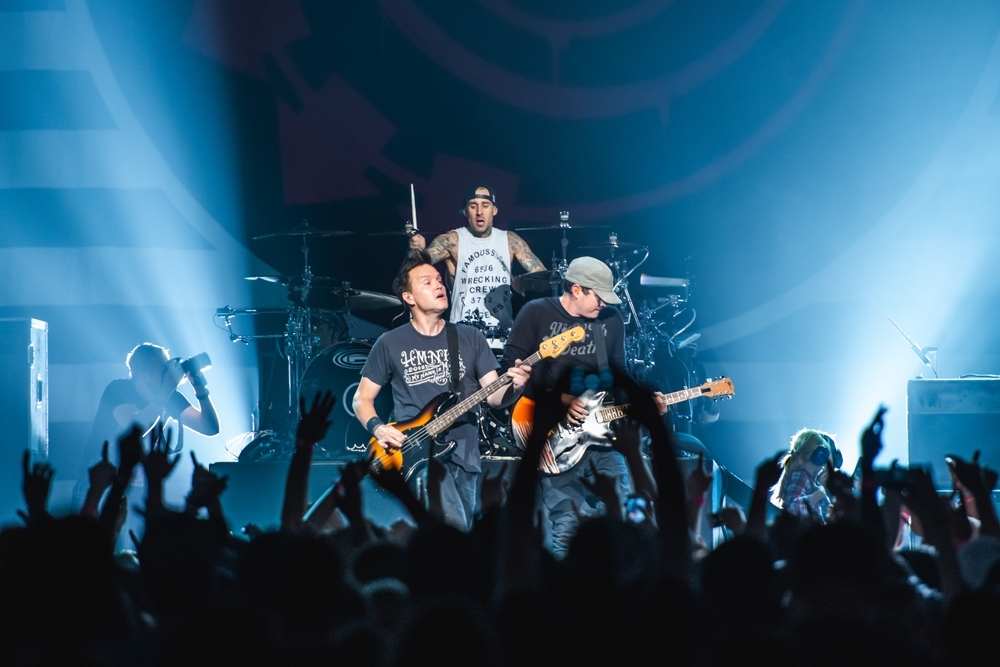 London, get ready to bounce and scream and have a shit-tonne of fun. Legendary pop-punks Blink-182 are in town this week. And better yet, this is no less than the OG Blink, with their original line-up of Mark Hoppus, Tom DeLonge and Travis Barker. Yeah, we're excited too. 
As part of a global tour that began in the US back in May, Blink-182 are playing two dates at the O2 Arena in Greenwich this week. Expect to hear classics like 'All the Small Things' and 'What's My Age Again?', as well as sneak peeks at the band's upcoming album 'One More Time', which officially arrives on October 20. 
From doors and stage times to the setlist, here's every you need to show about Blink's shows in the capital this week.
When is Blink-182 at London's O2 Arena?
The trio are playing the O2 on October 12 and October 13 2023.  
When will Blink-182 come on stage?
This hasn't been confirmed. However, from previous tour dates we'd expect the band to start playing at around 8:45pm.
What time do doors open?
Doors open at 6:30pm. 
Who is supporting Blink-182 at London's O2 Arena?
Support comes from American pop-punks The Story So Far.
Any news on the setlist?
Don't expect the band to play exactly the same set of songs on every leg of the tour. However, this was the setlist for a gig in Paris earlier this week.
Anthem Part Two
The Rock Show
Family Reunion
Man Overboard
Feeling This
Violence
Up All Night
Dumpweed
Aliens Exist
Dysentery Gary
MORE THAN YOU KNOW
EDGING
DANCE WITH ME
Happy Holidays, You Bastard
Stay Together for the Kids
Always
Down
Bored to Death
I Miss You
Adam's Song
Ghost on the Dance Floor
What's My Age Again?
First Date
All the Small Things
Dammit
ONE MORE TIME
Can you still get tickets to Blink-182's 'All the Small Things' tour in London?
You can indeed. You can check availability at the two gigs on AXS here – last time we checked, resale tickets were available starting from about £61.  
Stay in the loop: sign up for our free Time Out London newsletter for the best of the city, straight to your inbox.