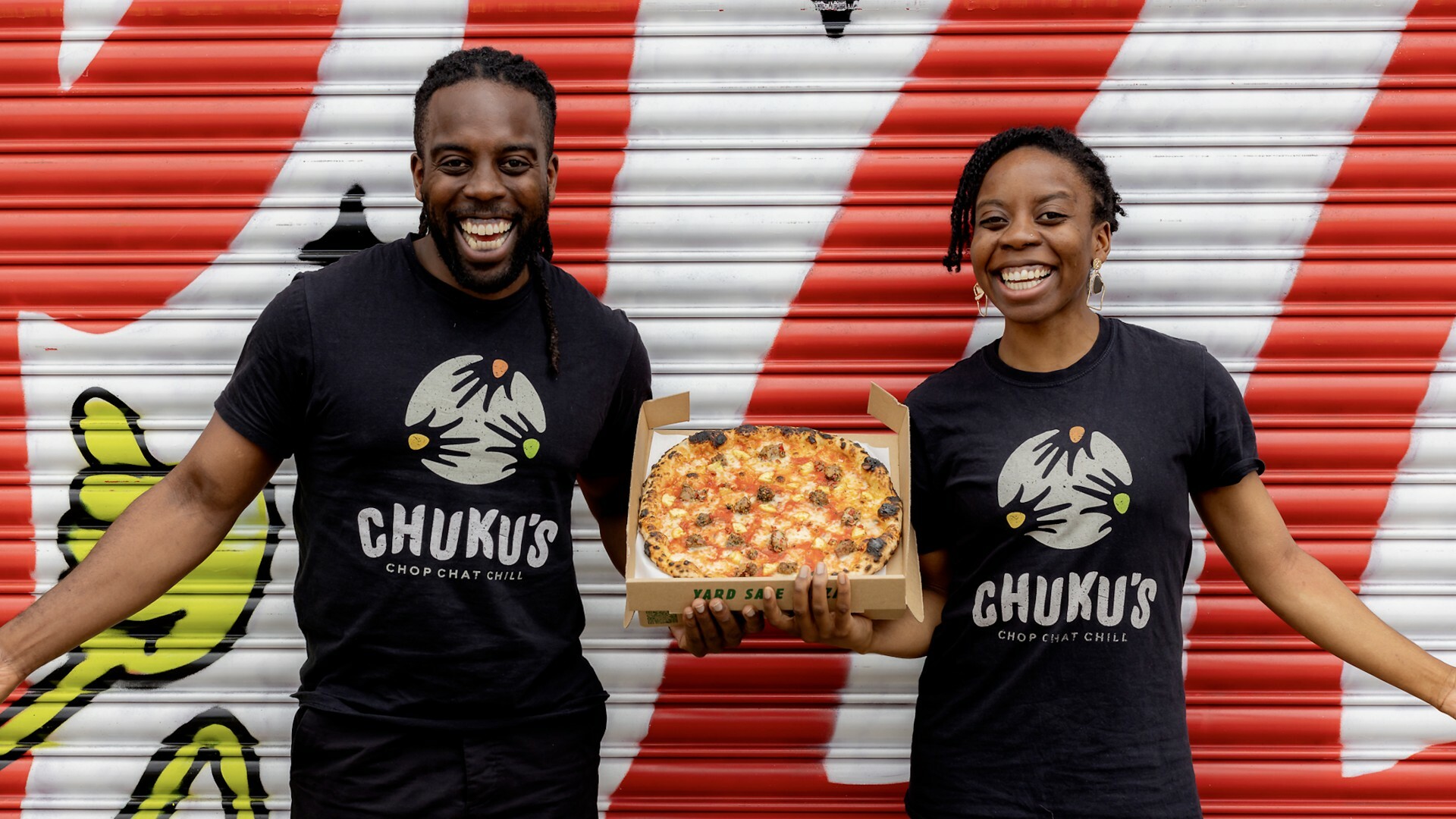 Another day, another impressive Yard Sale collab.
This time the slice specialists have teamed up with Chuku's – the world's first Nigerian tapas restaurant – to create a limited edition 'Lagos Heat' pizza.
The Tottenham restaurant has used classic West African flavours with smoked lamb asun – using the spicy flavours of ginger, garlic, red onion, coriander and scotch bonnet – as well as sweet fried plantain on top of the pizza. That all comes with a jollof stew base combined with Yard Sale's own house tomato sauce, and then a smattering of fior di latte mozzarella to seal the delicious deal.
We are extremely ready.
Siblings Emeka and Ifeyinwa Frederick opened Chuku's first bricks-and-mortar restaurant in 2020. 'We're always super excited to see the flavours of the much-celebrated jollof stew reach a wider audience,' said Emeka of the pizza, which is available for takeaway, delivery and dine-in from August 16-30 at Yard Sale's recently-opened Tottenham and Walthamstow locations only.
'Coupled with sweet-tasting fried plantain, it is an iconic Nigerian flavour pairing. And our lamb asun adds that more-ish kick. We hope for those familiar with Nigerian food they'll love our Nigerian spin on a pizza and for those new to Nigerian flavours, we hope that it'll spark their curiosity to explore the cuisine even further.'
In a lovely turn of events, it transpires that Ifeyinwa used to work for Yard Sale. 'Back in 2017 when Chuku's was still a pop-up, I took a job at Yard Sale in 2017 to learn more about the hospitality industry. And I learnt a lot there about what good management looks like and how to create a positive work environment – things that I took forward into Chuku's. At the time, I would tell my Yard Sale General Manager about the pop-up I was running and the dreams we had of opening our first permanent site.'
It's been a good summer for Chuku's, who were recently awarded an £8,000 grant from Beyoncé's charity foundation BeyGOOD during her run of shows at nearby Tottenham Stadium. 
Alert: pizza vending machines in London are now a thing
Did you see all the best new London restaurant openings in August?
Time Out's brilliant new podcast, 'Love Thy Neighbourhood', is out now. Listen to the second episode with Chloe Petts in Streatham.
Stay in the loop: sign up for our free Time Out London newsletter for the best of the city, straight to your inbox.