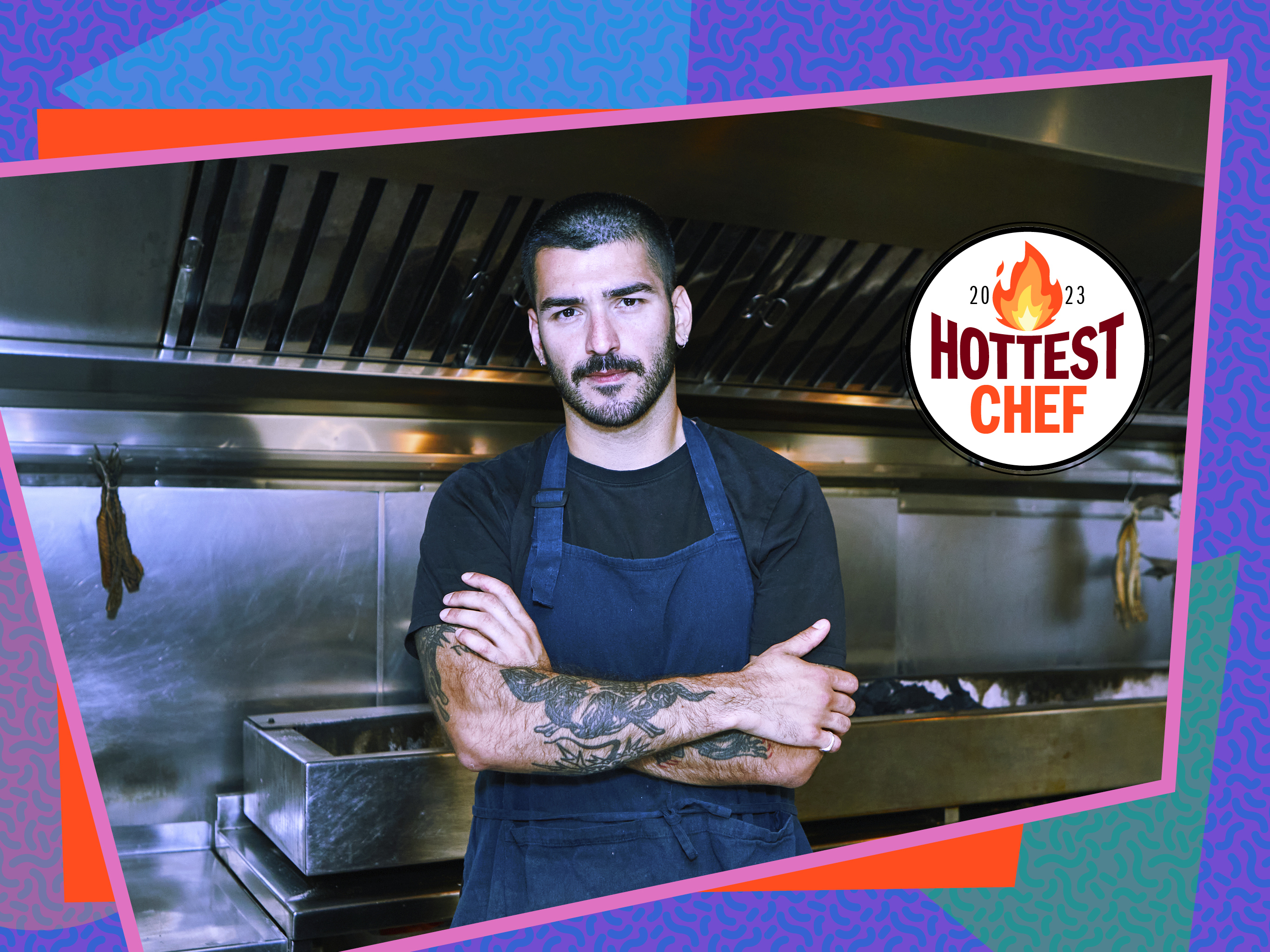 After some tense, lip-smacking deliberation, Time Out's fantastic food and television industry panel has chosen London's Hottest Chef from a shortlist of 12 incredible talents.
And the winner is, drum roll please… Sertaç Dirik of the always-extremely-good Mangal II in Dalston!
Sertaç is head chef and co-owner of his family's east London Turkish restaurant. He returned home from working in Copenhagen after lockdown to take over the kitchen and help out with the family business. His revamped menu was celebrated by our judges for its 'unique, modern and thoroughly flavourful twist on ocakbasi cooking'.
Sertaç received glowing praise from a panel which included critic, author and Masterchef presenter Grace Dent, Wahaca co-founder Thomasina Miers, chef proprietor of Quo Vadis Jeremy Lee, acclaimed restaurant PR Gemma Bell, Rahel Stephanie of cult Indonesian supper club Spoons, communications director of Harts Group (Barrafina, Parrillan, El Pastor) Sophie Orbaum, television exec Kate Leadbetter and Michelin-starred chef Chris Galvin. 
'Sertaç Dirik is everything I need in a chef', explained Grace Dent. 'He can cook fine, fancy things, but also excels feeding me the stuff I really want, until I almost burst. He could be cooking right now in Copenhagen, but he's in Stoke Newington doing the right thing by his family, and for that we should all be grateful. I once gave him an award, and up close he's so fit, I wanted to lick him. Thank God I am a professional.'
Chris Galvin added: 'With big shoes to fill, Sertaç has more than succeeded. Taking the reins of a kitchen blessed with a great reputation for deliciousness is difficult, but Sertaç has achieved this with hard graft and by packing his food with flavour and not a little style. Sertaç has a marvellous journey ahead of him… bravo!'
All the chefs in our shortlist of 12 were extremely popular with our panel. Rahel Stephanie was a fan of Dara Klein, who cooks family-style rustic Italian food at Tiella at The Compton Arms. 'A culinary matriarch in her own right, Dara Klein's cooking radiates warmth, care, and affection, evoking the comforting embrace of a beloved nonna,' said Rahel. 'Her ability to infuse every dish with a genuine sense of love is a revelation to anyone fortunate enough to experience her food. She's the nonna I never knew I needed.' Dara was also a firm favourite with Time Out readers on Instagram.
Rahel was also quick to single out Mandy Yin of Malaysian laksa bar Sambal Shiok on Holloway Road, north London. 'Mandy fearlessly embraces the reality of running a restaurant, offering an authentic and unfiltered glimpse into the joys and challenges that come with it. As a chef who strongly advocates for her craft, I find her commitment to transparency both inspiring and commendable.'
Meanwhile, Thomasina Miers praised Jackson Boxer of Vauxhall's Brunswick House. 'Dishy, intense, intelligent and book-ish! This guy could feed you the most delicious morsels whilst dissecting Proust – what more do you want?'
Jeremy Lee spoke highly of Caravel's Lorcan Spiteri, 'who quietly cooks away in one of London's most beguiling kitchens in the bridge of a boat anchored on a canal. The menu is charm itself, the cooking equally so. So ace in every way.' Lorcan was also popular with fans on social media, with a host of Lorcan fans declaring their love for the chef on our Instagram post. 
Sophie Orbaum praised Snackbar's Freddie Janssen and her 'massive cool girl energy. I've wanted to be in her gang since she was doing kimchee and stilton sandwiches years ago. The platinum blonde, the multiple rings and tattoos, but mostly the maverick approach to mixing culinary influences that always seems to work – hot.'
Meanwhile Gemma Bell called Angelo Sato 'one of London's most exciting young chefs. His menu at his Humble Chicken restaurant in Soho is hugely exciting, innovative and most importantly, utterly delicious.' She also singled out Shuko Oda. 'Shuko is an inspiration. She understands balance and flavour like no one else. A calm and creative force that makes Koya one of the best restaurants in London.' Another judge remarked: 'I would eat anything Shuko makes; and she's as chic as her restaurants.'
Kate Leadbetter said of Ayo Adeyemi of Akoko: 'I've been to Akoko and seen Ayo in action. He cooked me one of the best meals I've had in London and seemed to be having a riotous good time in the process. His charisma, unfailing good humour, and reassuringly authoritative air scream nine o'clock BBC One.' 
Thanks to all our 12 chefs; Dara Klein, Jackson Boxer, James Cochran, Shuko Oda, Sertaç Dirik, Freddie Janssen, Angelo Sato, Mandy Yin, Ayo Adeyemi, John Javier, Tom Zahir Browne and Lorcan Spiteri. 
The hunt for London's hottest chef – 12 talents from across the city