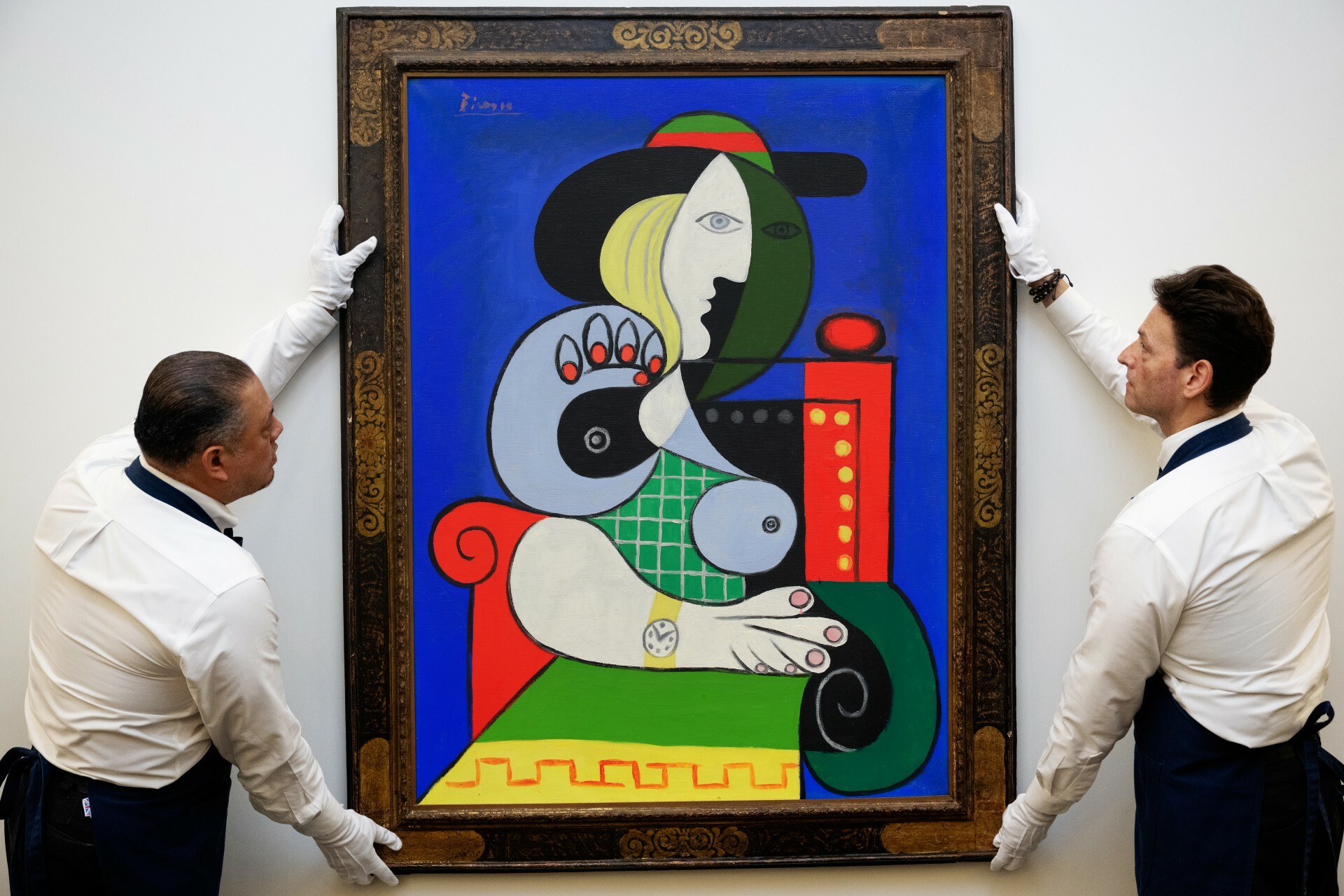 One of the most influential artists ever, Picasso's art is amongst the most recognisable of anyone's, anywhere. And while London-based fans of his cubist faces and vibrant colours have long had the collections of the Tate and National Gallery to gaze upon, now the capital has yet another Picasso masterpiece on display. 
Picasso, for those who don't know the foggiest about art, was a Spanish artist, sculptor and printmaker born in Malaga in 1881. Over a lengthy career, he is estimated to have put more than 20,000 paintings to his name. And now one of the rarest of those is on display at Sotheby's in London. 
The painting in question is titled 'Femme A La Montre' and it's a 1932 portrait of Marie-Thérèse Walter, known as Picasso's 'golden muse'. Once part of the collection of art patron and collector Emily Fisher Landau, it'll be on display at Sotheby's until Wednesday October 11. 
The oil painting is just one of many incredible works which are part of 'The Emily Fisher Landau Collection: An Era Defined'. A travelling exhibition, it has already been to Dubai and Hong Kong and is still set to grace Paris, Taipei and LA.
Also included in the collection are works by major names in the art world such as Andy Warhol, Mark Rothko and Willem de Kooning. 
When it goes up for auction at Sotheby's New York on November 8 and 9, the collection is expected to fetch around $400 million (£327m). But it's the Picasso that's currently the talk of the town. 'Femme A La Montre' on its own is estimated to sell for an incredible $120 million (£98m).
But if your purse strings won't loosen quite that much, make sure you head to Sotheby's to catch a glimpse before the exhibition moves on.
Time Out on Picasso
Picasso has, naturally, been the subject of plenty of shows in London over the decades. In the last few years alone, Big Pabs has featured in 'Capturing The Moment' at the Tate Britain (2023), 'Picasso Ingres: Face to Face' (2022), 'Picasso and Paper' (2020), 'Picasso 1932: Love, Fame, Tragedy' (2018), 'Picasso: Minotaurs and Matadors' (2017) and much, much more. Him and us, we've got history. 
Did you see that this architectural masterpiece in west London is now on Airbnb?
Plus: this 1940s steam train is returning to London this Christmas.
Listen to Time Out's brilliant new podcast 'Love Thy Neighbourhood': episode nine with Fern Brady in Catford is out now.
Stay in the loop: sign up for our free Time Out London newsletter for the best of the city, straight to your inbox.