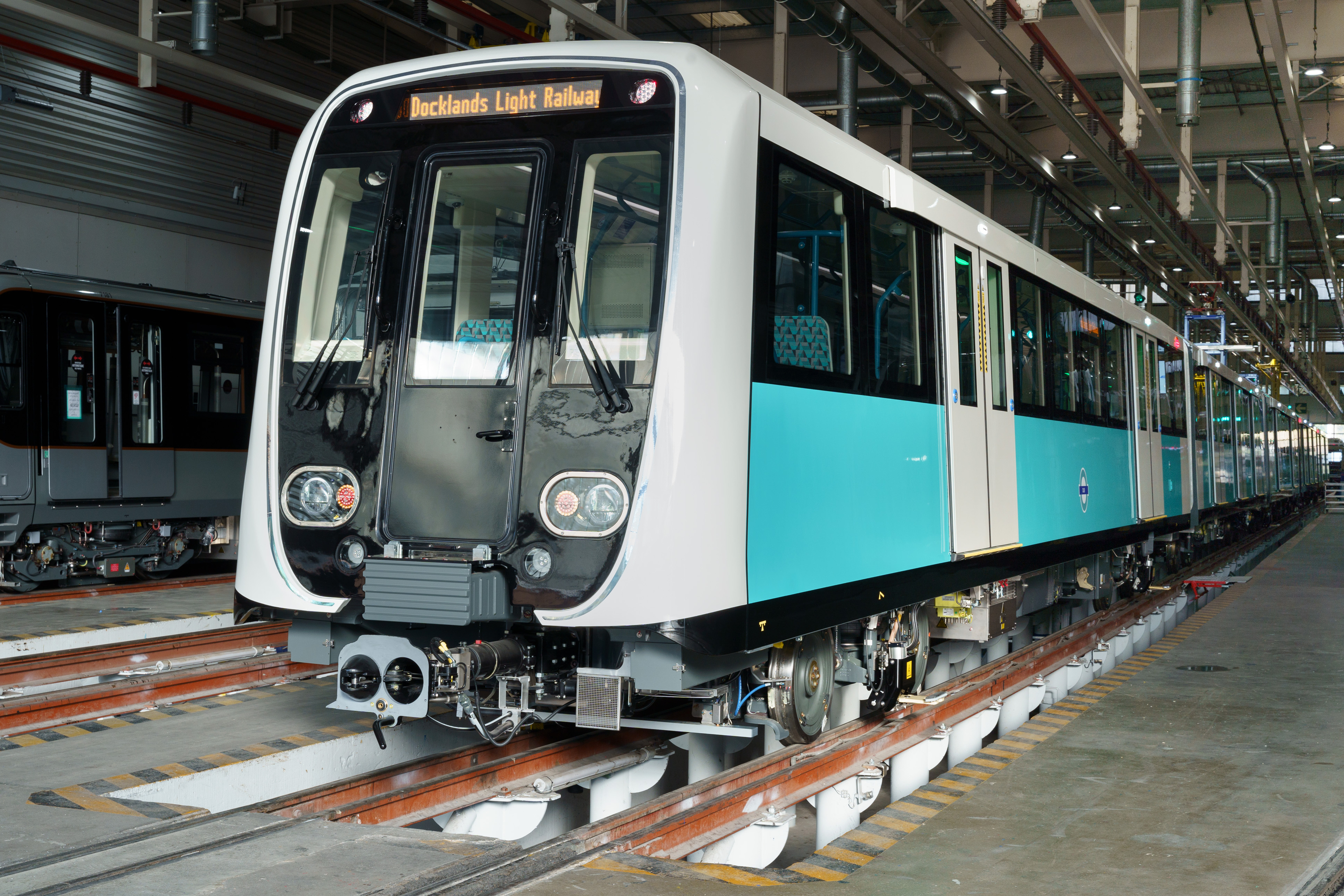 The first pics of the newly arrived turquoise DLR trains dropped this morning, and they're looking good. The fresh trains have air-conditioning and USB charging portals, and – don't worry – you'll still be able to sit at the front and pretend to 'drive' the train, Sadiq Khan said. 
Due to hit the tracks next year, these bad boys can reach 50mph, are 86.7m long and hold up to 793 passengers. The new models (built in Spain) will have real-time travel information displays and walk-through carriages. Like the current DLR trains, they'll be driverless but there will be a 'train captain' on board to switch the automatic controls to manual if needed. TfL isn't getting rid of the passenger-favourite front pew that gives the 'driver's-eye view', but the majority of other seats will be along the carriage sides like on the tube and Overground. 
Although the existing DLR trains are barely 30 years old, more than half of them will be replaced. In total, 43 new units will come to the UK, 33 of which will replace the existing red-and-blue fleet while the remaining ten will increase capacity on the network. With these newbies, the total number DLR trains will increase from 42 to 54 as some of the old models will be kept in service. TfL also has the option to buy 11 more trains that could be used to bolster the service around the Royal Docks area. 
TfL commissioner Andy Lord said: 'These new state-of-the-art DLR trains will transform journeys for our customers and help support future growth in east London. The trains will now go through testing ahead of introduction in 2024 to ensure they provide the reliability both we and our customers expect.
'The trains are fully automated. They can drive themselves. We always have a passenger service agent on board to help with customer needs. They are all qualified to drive.'
Fight you for the front seat.
A huge new wild-swimming spot is coming to east London.
London bus strikes: everything you need to know.