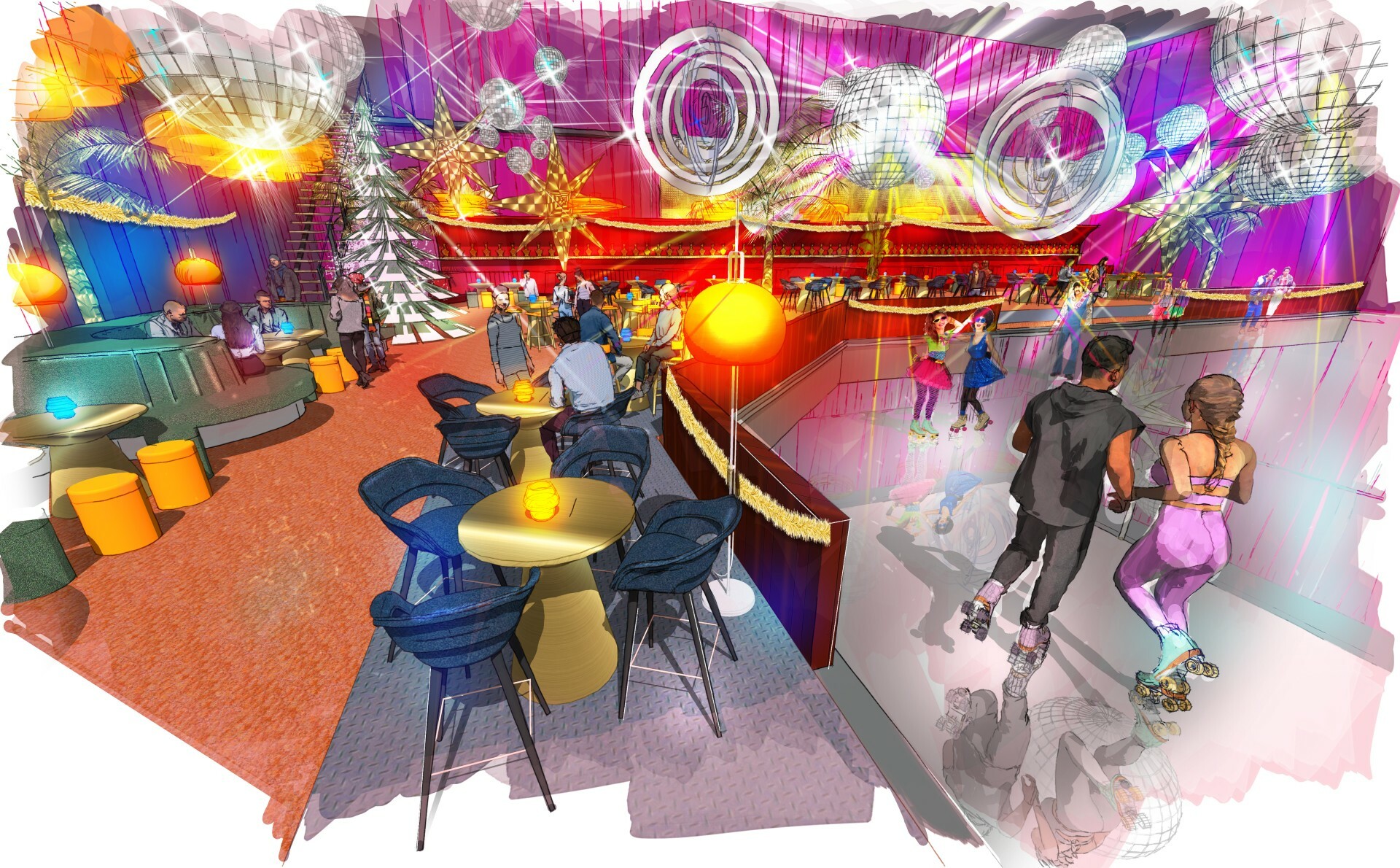 You read the headline, and we know what you're thinking. Aren't all roller-skating rinks immersive? And that's true – we'd love to know what a non-immersive one looks like. Everything's immersive these days, innit. We even once did an entire day of immersive experiences in this city.
But London's actually running pretty low on roller rinks and, if you ask us, the capital sorely needs a few more of 'em. Luckily, a brand-new one has been announced – and it's claiming to be the UK's 'first immersive live roller-skating rink'.
Called Rollerscape, it'll be at the Troubadour Wembley Park Theatre and promises to be London roller-bladers' hottest new ticket in town.
Among its many charms will be 'a ceiling of sparkling disco balls' and a whole bunch of other stuff that the rink has dubbed 'après skate'. It'll have festive-themed attractions like a giant upside-down Christmas tree, a Santa's grotto and alpine lodges, but it'll also have other, not-necessarily-festive features like bars and food vendors, as well as special events with DJs and a Taylor Swift event every Sunday.
Sound like your sort of thing? Adult tickets are £14 at off-peak times and £16 for peak times.
Rollerscape will be on from November 23 2023 to March 16 2024 and you can find out more on the official website here.
Time Out, blade-style
London doesn't have much for roller-skaters (ice skating, well, that's another question), but we're on top of it all, from our 2019 history of the sport in London to our venue page for Tottenham's Roller Nation.
Did you see that Lewisham town centre is getting a spectacular glow-up?
Plus: the City of London's biggest and oldest park will soon close for an entire year.
Stay in the loop: sign up for our free Time Out London newsletter for the best of the city, straight to your inbox.